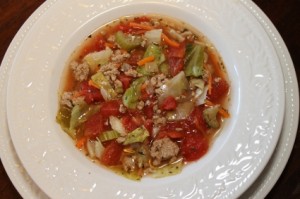 Cabbage Roll Soup
Serves 6
This recipe came from Face Book. I don't know who to credit it to, but it is delicious!
I made a few changes to liven it up a little and give it a fresh taste.
What you'll need:
2 pounds of ground turkey (not turkey breast)
OR
2 pounds lean ground beef
Olive oil for frying
1 large onion, cut in bite-sized chunks
1 teaspoon chopped garlic
1 small cabbage, cut into chunks or slices
2 cans (14.5 oz.) diced tomatoes
1 can (8 oz.) tomato sauce (I use Trader Joe's Marinara)
1 teaspoon Greek seasoning OR
Fresh chopped herbs (about ¼ cup total): lemon or regular oregano, lemon or regular thyme, chopped fresh basil leaves.
2 teaspoons grated fresh lemon zest
½ cup water
Fresh grated pepper
Salt to taste
Steps:
Sauté onions and garlic in olive oil until onions are translucent.
Add turkey or beef and sauté until no longer pink. Do not overcook and do not chunk it up too much, or you will have little granules of meat throughout your soup.  You want small chunks of meat.
Add tomatoes, tomato sauce, herbs and water, salt and pepper to taste. Let it cook for about 10 to 15 minutes.
Add cabbage and simmer until cabbage is cooked to your liking, usually another 10 minutes or so.