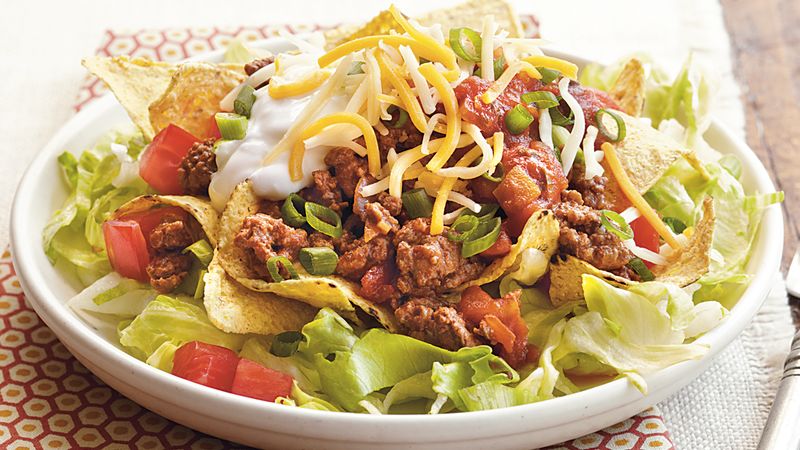 Dee's Kinda Healthy Taco Salad
Serves 6
This can be made vegetarian or you can add whatever type of meat or poultry you like.  I prefer ground turkey , cooked with sweet peppers and onions (see below), however you can use beef as well.  If you prefer not to cook, grab a rotisserie chicken from the market, shred it or cut it up and use it in the salad.  This is a great time to use leftover meat, chicken or that pork chop that you didn't know what to do with!
Get creative!
What you'll need:
For the salad:
½ head iceberg lettuce or cabbage
1 head green leaf lettuce
Sliced black olives
2 to 3 green onions, sliced on the diagonal
3 ripe tomatoes, cut into bite-sized chunks
1 large avocado, also cut into bite-sized chunks
Serrano or Jalapeno chilies, sliced (optional and according to taste)
1 bunch cilantro, leaves only
Light mixed Mexican blend cheese, grated, about 1 cup or to taste
Tortilla chips (light), coarsely crushed
For cooked turkey and peppers:
1 large, sweet onion, cut into chunks
1 sweet yellow and 1 sweet red pepper, bite-sized pieces
1 pound ground turkey
1 teaspoon ground cumin
1 teaspoon ground Chipotle pepper
Garlic salt to taste
Olive oil
For the dressing:
1/2 cup Light sour cream
1 cup fat free Greek yogurt*
1/3 to 1/2 cup home made salsa, Victoria Salsa or other favorite, mild to hot (to taste)
1 small garlic clove, crushed in press
Salt and Freshly ground pepper to taste
Lemon or lime juice to taste
Freshly ground pepper, salt to taste
*If you prefer, you can use all Light sour cream (1 ½ cups)
Steps:
Wash and dry the lettuces, slice or cut them up to your taste and toss them together. Set aside.
In a large bowl, combine the olives, green onions, avocado, tomatoes, cilantro, chilies (if using) and sweet red and yellow peppers.  Toss together.
Once veggies are combined, put the lettuces on top and place in the refrigerator to stay cold.
Sauté the chunks of onion in hot olive oil in a medium frying pan. When onion begins to turn translucent, add the peppers and cook until the peppers are crisp tender. Remove from the pan and set aside to cool. If making the salad vegetarian, skip to #7.
Sauté the ground turkey in the same pan (you may need to add a little more olive oil). Add garlic salt, ground cumin and ground chipotle pepper to taste.  Break up the turkey, but not too much. You want chunks of turkey, not granules.
When the turkey is cooked (pink gone), combine with the cooked peppers and onions and continue to cool or refrigerate the mixture until ready to assemble your salad.
Combine the sour cream, salsa and garlic clove and blend together. Squeeze a little lemon or lime juice in the dressing and adjust the seasonings to taste.
When ready to serve, mix the salad together, add ½ the cheese and put the dressing on, tossing lightly to coat.  You may want to save some of the dressing to serve in addition to what's already on the salad.
Top with meat of your choice, add remaining cheese and toss.
Crumble tortilla chips over the top.
Serve immediately!
If using beef, you may want to try this.  While high in sodium, it is quite tasty:
Brown 1 pound of ground beef in a hot skillet and drain off the fat.  Then add 1/2 package of dry onion soup mix and cook until onions are soft and seasonings have blended into the beef.  You may need to add a couple to tablespoons of water if the beef is exceptionally dry. Let the beef cool somewhat before topping the salad.