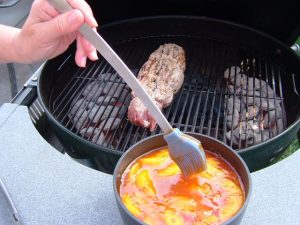 This recipe is great for summertime grilling. No hot oven and minimal clean-up!
Glazed Pork Loin Roast
with Peach Barbecue Sauce
What you'll need:
½ cup onion, diced
1 Tablespoon garlic, minced
1 Tablespoon fresh ginger, minced
¼ teaspoon red pepper flakes
1 ½ cups peach juice or nectar
1 cup fresh or frozen sliced peaches
½ cup peach preserves
¼ cup catsup
2 Tablespoons apple cider vinegar
1 Tablespoon honey
2 teaspoons fresh lime juice
1 cinnamon stick
1 boneless pork loin roast, trimmed, seasoned with salt and pepper (2 lb.)
Fresh peaches, unpeeled for grilling (optional)
Steps:
Prepare your grill for indirect cooking.  A Weber grill with a domed lid works great for this recipe! If using coals, place your coals on both sides of the grill and preheat until white ash forms. Leave the coals on the sides of the grill.   Your roast will be placed directly in the center of the grill. Place the lid over the grill and DO NOT remove the lid. You can adjust the temperature of your grill by regulating the vents at the top and bottom of the barbeque. Keep it between 350 and 375 degrees throughout the cooking.
Sweat the onion, garlic, ginger and pepper flakes in oil in a saucepan over medium-low heat until soft, about 5 minutes.
Add nectar, increase heat to medium-high and simmer until reduced to 1 cup, about 10 minutes.
Stir in remaining ingredients, (except pork, of course!) reduce heat to medium and simmer until sauce has thickened slightly, 10 minutes or so. Discard cinnamon stick.
Reserve about ½ cup sauce for grilling the meat.  Cool remaining sauce and cover with plastic wrap. This can be stored in the refrigerator for up to 1 week.
Place the pork in the center of the grill with the preheated coals on both sides. Spoon reserved sauce over the meat, put the grill lid on snugly, and roast at between 350 and 375 degrees for 21 minutes per pound.
Once the meat is removed from the heat, place on a platter and cover with an inverted bowl or aluminum foil to form a tight seal.  Let it rest for 10 to 15 minutes.
If you are using fresh peaches, slice them in half and grill them over the still smoldering coals. Grill for a few minutes while the meat is resting, until grill marks form.  Delicious!
Slice the roast and serve with leftover sauce and grilled peaches.
*** *** ***
My rule of thumb for roasting perfect pork, whether in the oven or on indirect barbecue, is about 21 minutes to the pound with a 10 t o 15 minute resting period.  So, for a 2 pound roast, if you have kept your temperature steady at 350 to 375 degrees, it should be done after 45 minutes of cooking and 10 to 15 minutes of rest.
*
Remember that the meat will continue to cook once it is removed from the heat. Pork does not have to be cooked to death. It is most flavorful when there is a tiny bit of pink in the center. I would not recommend it ever be served medium rare, but medium to medium well is a good choice. Of course, if you just can't get past the pink, you will have a less flavorful and a little tougher piece of meat.
*** *** ***
This lovely pork is delicious with whipped cauliflower, and grilled corn on the cob.
Enjoy!