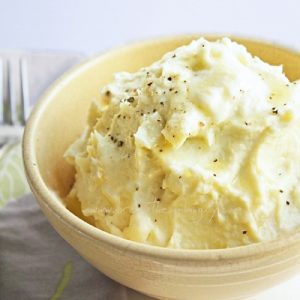 Whipped Cauliflower "Potatoes"
A seriously delicious alternative to mashed potatoes
Serves 4
What you'll need:
1 head cauliflower florets without stems
1 Tablespoon cream cheese (low fat is fine)
1 Tablespoon Light Butter
1 Tablespoon Light Sour Cream
1 smashed small clove of garlic
Salt and freshly ground pepper to taste
Steps:
Cut florets from cauliflower.  For this particular recipe, it is important not to include any of the stems. They will keep the mixture from becoming fluffy and will give it a "grainy" taste.
Cover florets with cold water and cook as you would cook potatoes, for about 15 to 20 minutes, until the cauliflower is cooked but not mushy.
Once the florets are cooked, drain off all the water. Place the cooked cauliflower over the heat and toss around in the pan to completely dry. You can also blot with a paper towel.
Add the remaining ingredients and whip with a hand mixer for a lighter finish, or hand mash to your taste. Adjust seasonings.
Serve immediately while piping hot!