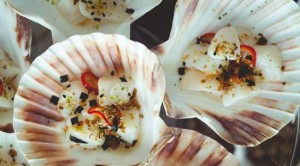 Dee's Ceviche 
Serves 12
Simple and fantastic!!
This ceviche recipe is quite user friendly! You can use any shellfish you like.
I prefer the combination I have listed in the recipe, but experiment with the blend of fish and citrus flavors, to suit your personal taste.
The Serrano chilies can add quite a bit of heat. I do however, highly recommend the addition of the mild jalapeno for flavor.
What you'll need:
1 pound small (bay) shrimp or medium shrimp cut in half
1 pound imitation Krab, cut into small chunks OR
1 pound cooked fresh lump crab meat
1 pound fresh uncooked bay scallops (the small ones)
½ cup fresh lime juice (6 to 8 limes)
¾ cup fresh orange juice
¾ cup fresh lemon juice
1 medium sweet onion, finely chopped
1 or 2 Serrano chilies, finely chopped (or to taste)
1 stalk celery, finely chopped
1 Tablespoon finely minced garlic
1 unpeeled English cucumber, finely chopped
1 bunch fresh cilantro, coarsely chopped
1 mild jalapeno chili pepper
Steps:
Combine all ingredients. Refrigerate tightly covered, tossing occasionally, for 12 to 24 hours.
Serving suggestions:
Makes a great tostada with avocado slices and sour cream
Serve with homemade tortilla chips
Serve on a bed of colorful greens or Belgian endive spears
Serve as an elegant appetizer course on scallop shells (pictured)