Sometimes all it takes to turn a so-so dish into something fabulous is the right complement!
I have tried many recipes for sauces and find that by adding my own taste, fresh herbs, a little lemon and a dash of daring, I was able to create simple and delightfully distinctive flavors to enhance but not overwhelm the main dish.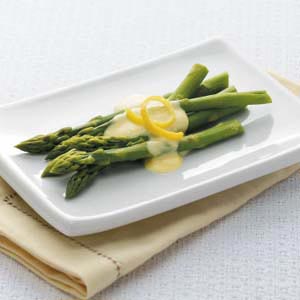 Blender Hollandaise a la Dee
What You'll Need:
1 cup butter, melted and bubbly
4 egg yolks
Squeeze of fresh lemon juice (to taste)
Dash of Cayenne Pepper
Salt to taste
And of course, a blender!
Steps:
Separate eggs, saving the whites for a nice omelet or other use.
Melt the butter just to the boiling point. This can be done on the stove or in your microwave.
Put the egg yolks into the blender and turn on to blend.  Add the cayenne. While motor is still running, pour in the hot butter through the fill cap (hole in the top of the blender lid). This process will act to "cook" the yolk and emulsify it.
Slowly squeeze in about 1 to 2 teaspoons of fresh lemon juice or to taste, along with a small pinch of salt.
Just a quick zap of the blender and you have quick Hollandaise sauce, which can be served over Eggs Benedict, asparagus or beef.