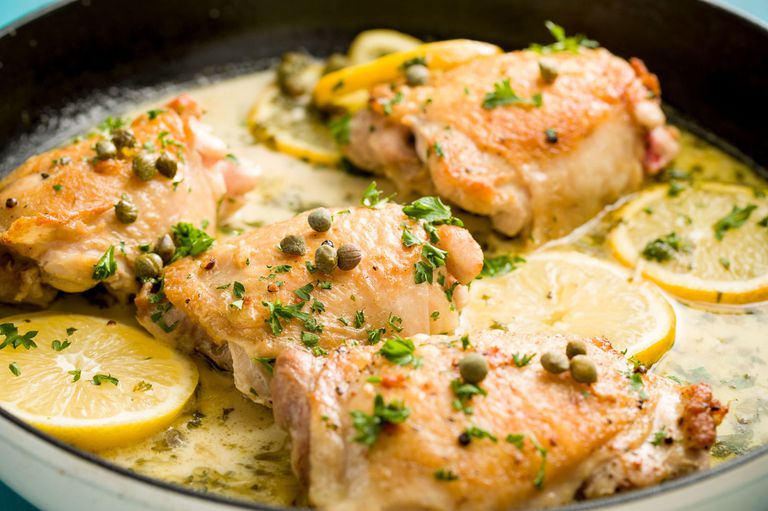 This recipe is one of my all-time favorite go-to comfort food dishes.
It takes about 30 minutes to prepare once you have gathered all your ingredients and is it adaptable to your taste.
Dee's Chicken Piccata
Serves 4
What You'll Need:
Olive oil for frying, 2-3 Tablespoons total
4 boneless, skinless chicken breasts or thighs
Salt
Freshly ground white pepper
Flour for dusting, about 4 Tablespoons
2 Tablespoons capers in brine, rinsed
½ large fresh juicy lemon
1  cup dry white wine
1 cup rich chicken broth
You will also need a large frying pan, one zip lock baggie and a flat kitchen mallet
Steps:
Splash a little white wine inside a zip lock baggie, just a Tablespoon or so to keep the chicken from sticking to the bag. Place one piece of chicken inside the bag at a time.
Pound the chicken  with the flat side of a kitchen mallet or a heavy frying pan until it is about 1/3 to ¼ inch thick. Remove to a platter and continue with the remaining chicken breasts.
Season both sides of each piece of chicken with salt and pepper to taste and dust with flour. Just sprinkle a little over each breast.  You will need 4 Tablespoons flour for this recipe.  The ratio is 2 Tablespoons flour to 1 cup liquid, so you can adjust if making more or less than the recipe calls for.
Add olive oil to a large frying pan, turn heat to medium, and begin to sauté each chicken breast until nearly cooked through and light golden brown on each side.  Resist the temptation to overcook your chicken!  This won't take long!  Just a couple of minutes on each side.  If your pan isn't large enough, cook chicken in batches so you get a nice even color.
When all the chicken is cooked, remove from pan and set aside.
Add wine to the pan and swirl about. Bring wine to a boil until it begins to reduce. Add chicken broth, capers and ½ the fresh lemon juice.
Add chicken to the pan  and turn to coat with wine-broth mixture. It will thicken as it cooks for the next 5 minutes as you baste the chicken with sauce.  You may need to add a little more wine or broth if sauce is too thick. Taste and adjust seasonings.
Turn off the heat, cover for a few minutes to allow all the flavors to blend and serve hot.
BUON APPETITO!!