This is a healthy and delicious summer treat that is sure to please!
If you don't want to fire up the grill, you can cook your shrimp on the stove top  in a grill pan or in the broiler — any way you choose, this is a great meal served with fresh, warm corn tortillas!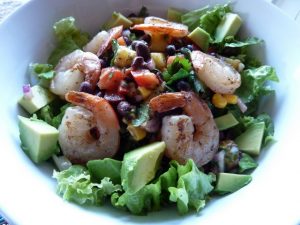 Grilled Shrimp Salad with Black Bean Mango Salsa And Avocado
Serves 4
What you'll need:
Salsa
½ cup chopped red onion
Olive oil for sautéing
2 cloves garlic
1 jalapeno chili, chopped
2 Serrano chilies chopped finely (or to taste)
2 to 3 ripe mangoes, cubed
1 can (15 oz) black beans, rinsed and drained
Handful cilantro, chopped coarsely
1 teaspoon ground cumin
1 to 2 teaspoons ground coriander
1/3 cup white wine
1 to 2 Tablespoons seasoned rice vinegar
2 teaspoons dried tarragon leaves OR
2 sprigs fresh tarragon, leaves intact (preferred)
(Note: you can take the time to remove the leaves from the tarragon sprig and chop them, but it isn't necessary.  If you put the whole sprig into the beans and remove it when the beans are hot, it will flavor the dish just fine!)
Shrimp
16 Jumbo Shrimp, peeled and deveined
Mixture of 2 Tablespoons each lemon and orange juice
1 clove crushed garlic
Drizzle of olive oil
Sprinkle of ground cumin
Salad
1 to 2 large ripe avocados, cubed
2 tender green onions, sliced thinly
1 head green leaf lettuce, torn and chilled
¼ cup cilantro leaves
1 Tablespoon good quality extra virgin olive oil
Salt to taste
Steps:
Make the mango salsa
Sauté onion in olive oil until soft, then add chopped garlic and sauté until cooked.
Stir rinsed beans, chilies, tarragon sprigs and mangoes into onion and reduce heat to low.  Cook until the tarragon infuses into the beans, about 10 minutes.
Stir in coriander, cumin (and dried tarragon if using), wine and vinegar.
Heat mixture through and remove from heat.  If you have used the whole tarragon sprigs, remove them now.
Stir in cilantro and adjust seasonings. Add salt to taste, cool and refrigerate while prepping shrimp and salad
Grill the shrimp
Mix citrus juices together and add the crushed garlic.  Put the shrimp into a glass bowl or baggie and pour the citrus mixture over shrimp, mixing together to coat.  Let marinate for about

5 minutes

.  If you let it marinate too long, you will "cook" your shrimp with the citrus and they will be tough.
When ready to grill your shrimp, drizzle with a little olive oil and toss to coat.
Place the shrimp onto a hot grill pan and sprinkle with a dash of cumin. Cook for about 2 minutes on each side, until they just begin to curl and turn slightly pink. Remove from heat and set aside while you mix your salad.
Make the salad
Remove your thoroughly chilled greens, including cilantro from the fridge and toss with about 1 Tablespoon olive oil, just until the leaves glisten.  Add a sprinkle of salt and toss together.
Have your avocado cubed and sliced green onion ready for serving. Once you have all your ingredients together, you can begin to plate. Start with a handful of lettuce, top with chilled black bean mango salsa. Arrange avocado and shrimp attractively on the plate and serve.
Happy Eating!