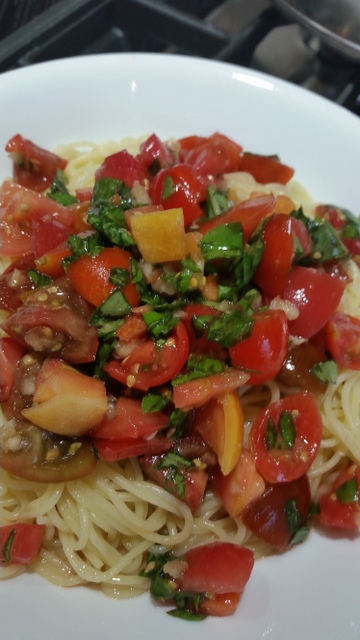 A quick, healthful and delicious dinner that you can whip up in under 30 minutes using farm-to-table fresh ingredients!
If you have the privilege of picking your ripe tomatoes off the vine, that's the perfect choice!
Capellini Pomodoro a la Dee
Serves 4 to 6
What you'll need:
1 pound fresh or dried capellini , angel hair or other thin pasta
6 to 8 large, ripe tomatoes
Fresh basil leaves (approx. 15-20)
Good quality olive oil, up to 1/3 cup
Fresh garlic, 3 to 6 cloves (to taste)
Salt and Freshly ground pepper
Steps:
Coarsely chop tomatoes, saving all the lovely juices. Place in a bowl.
Add 3 cloves crushed garlic, salt and pepper.
Chop basil leaves coarsely and add to tomato garlic mixture.
Add olive oil. Start with ¼ cup Add more oil to your personal taste.
Adjust the garlic, salt, pepper and oil to taste.
Let set at room temperature while you cook the pasta per package directions, using salted, rapid boiling water. This is very thin pasta, so can cook in about 4 to 5 minutes.
Once the pasta is cooked, drain and return to pan, reserving 1/4 cup of the cooking water.
Drizzle cooked pasta with olive oil (about 1 Tablespoon) and add a little of the reserved pasta water. Toss to blend the olive oil and water into the pasta.  This will keep it from clumping.
Plate the cooked pasta either individually or in a large pasta bowl that allows the pasta to spread out. If you want to add a drizzle more of olive oil, do it now.
Top with the fresh tomato mixture and EAT~
You may want to serve with a simple tossed green salad with olive oil and vinegar dressing.
To refrigerate or not refrigerate tomatoes, that is the question!
My personal preference is not to refrigerate tomatoes. Studies indicate that ripe tomatoes should be kept from 44-50 degrees–higher than your fridge temperature (39 degrees), but lower than your home temperature. Once the tomato is refrigerated, the volatiles in the tomatoes are harmed and so is the flavor. If you must refrigerate your tomatoes, try to let them sit out for 24 hours at 70 degrees to help reverse some of the effects of refrigeration. While you will not get the true flavor of the tomato back, it's better than losing your ripe tomatoes to rot if they sit out in extreme heat.