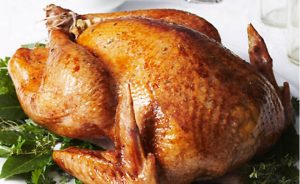 Dee's Roast Turkey with Sausage and Fruit Stuffing
Holiday time brings images of turkey and stuffing, cranberry relish and whipped potatoes to many Americans. I have been serving this family favorite for many years and am now sharing it with you.
Please remember that the quality of your outcome is dependent upon the quality of the ingredients you choose!
What you'll need:
12 to 14 pound turkey – organic, free-range preferred
½ cup Pinot Grigio or other dry white wine
1 cube (1/2 cup) organic unsalted butter for melting
3 to 4 Tablespoons softened butter
2 cloves fresh, crushed garlic, or garlic powder ½ teaspoon
2 teaspoons poultry seasoning
Trussing or kitchen string
Meat injector
Oven bag (turkey size)
Flour for Oven Bag
Stuffing:
Olive oil for frying
1 very large or 2 medium onions, coarsely chopped
1 pound loose seasoned sausage of your liking (without casings)
2 large apples (either Granny Smith or Red Delicious), coarsely chopped
2 celery stalks including leaves, chopped
6 cloves garlic, finely minced
½ to 1 cup raisins, plumped in sweet wine or port
Handful (approximately 1/3 cup) coarsely chopped Italian parsley
2 Tablespoons chopped fresh sage leaves
1 Tablespoon fresh English thyme or lemon thyme leaves
¼ cup dry white wine
¼ to ½ cups good quality chicken broth
8 -10 cups cubed, toasted bread  or stuffing mix of your choice – packaged, seasoned OK
Kosher salt and freshly ground pepper to taste
Steps:
Prep your turkey by rinsing cavity and body in cold water and drying completely with paper towels. Season the cavity with salt and pepper.  Set aside in the refrigerator while you prep the stuffing. NOTE: When handling any poultry, be certain that your prep surface, utensils and hands are impeccably clean! Cross contamination can occur if you don't clean in between steps. Wash your hands and cooking surfaces thoroughly with soap and water after touching poultry.
Choose a large skillet to accommodate all of your ingredients. Add olive oil to pan and heat until shimmering.  Add onion and garlic and cook on medium heat until onion is soft and sweet. Add pepper to taste.
Add sausage to pan and cook for about 5 minutes, breaking up sausage into moderate sized chunks.  Don't overcook the sausage, there is more cooking to come!
Add celery, diced apples and plumped raisins, including soaking liquid and ¼ cup white wine. Allow liquid to reduce to condense flavors.
Remove pan from heat and cool.
Place dry bread cubes into a large bowl or pan. Add cooled sausage-fruit-onion mixture to the cubes and mix together.  Add chopped herbs – parsley, thyme and sage and mix together to incorporate the herbs throughout.
If the mixture is very dry, drizzle in some chicken broth or wine (or both) to soften the cubes. Mix and fluff stuffing to moisten. You don't want them mushy, just moist.  Taste the stuffing and season to taste with salt and pepper.
You can stuff your bird with the prepared stuffing if you plan to cook it immediately.  Do not stuff the turkey the night before!  You can also cook the stuffing in a separate pan. If you do, dot with butter before baking and bake until golden brown on top.
Whether or not you stuffed your bird, truss it so that the legs and wings and secure.
Set the oven to preheat to 350.
Now time for the key to incredible flavor and tenderness!
Melt ½ cup of butter with ½ cup white wine, poultry seasoning and garlic in a small pan.  Whisk to blend.  With your meat injector (looks like a syringe and needle – available through Amazon or gourmet stores), draw up a syringe-full of the butter-wine mixture and inject the bird, especially at the breast area and legs/thighs. (If you're a nurse, use the "z" technique!). Go in on an angle on the side of the breast and inject slowly. Gently pull the needle out to avoid oozing. Keep the mixture blended as the butter will tend to rise to the top. Continue to inject the bird until all of the liquid is used.
Use softened butter to gently spread over the outside of the turkey. Sprinkle the entire with a little Kosher flake salt and a grind of pepper.
Place the bird into a Turkey Size Oven Bag to which you have added 1 Tablespoon to flour (per directions) and close the bag. Cut or poke holes in top of the bag and place turkey on a rack or inverted pie plate. Be sure that the bag is tucked inside your cooking pan to catch all the juices from the bird.
Roast the stuffed bird per the oven bag instructions – 12 to 16 pound stuffed bird roasts for 3½ to 4 hours at 350.
When you remove the bird from the oven, gently slit the top of the bag to remove the bird and allow the juices to flow into the bottom of the pan.  The juices make great gravy or you can just serve au jus!
Allow the bird to rest for at least 20 to 30 minutes or longer before carving.  This will allow all the juices in the turkey to remain within the meat.  Remove the stuffing and put into a covered casserole dish to serve.
Enjoy any time of year!!