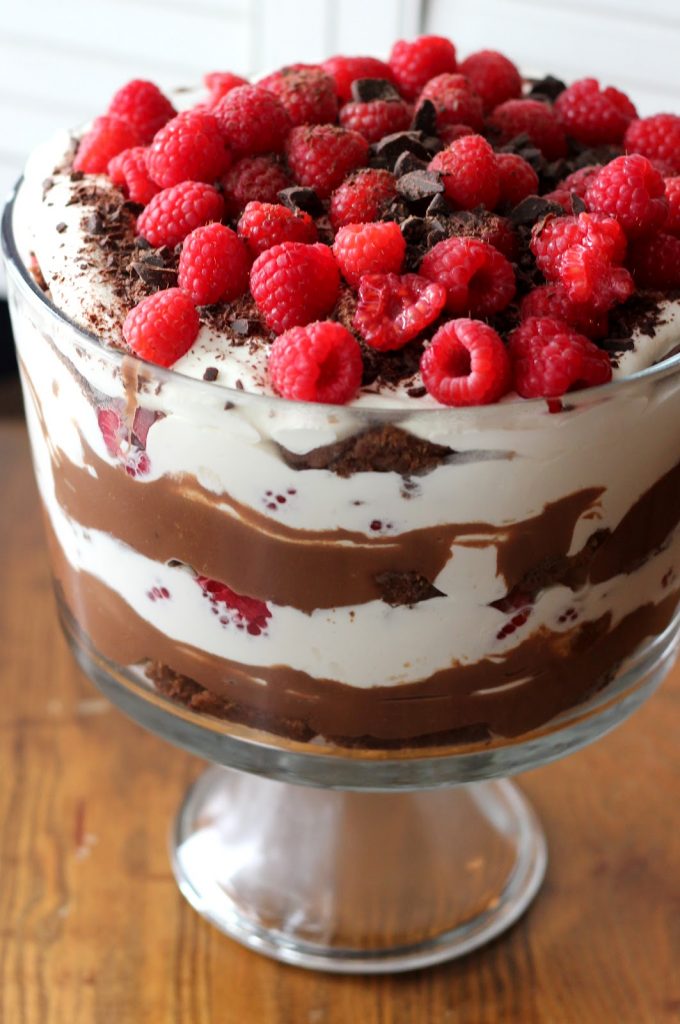 Dee's Chocolate Espresso Kahlua Trifle with  Raspberries
This is my go-to party or holiday pleaser!
This dessert can be made with ready made or homemade ingredients and is easy to prepare.
What you'll need:
Choose a large, attractive clear glass bowl or trifle bowl so that the layering can be seen.
Triple chocolate cake either homemade or store bought, about 9 cups when cubed
1 to 3 cups Kahlua or other coffee-chocolate liqueur
2 cups chocolate-fudge pudding, homemade preferred, but packaged OK
2 Tablespoons (or more to taste) instant espresso powder
1 ½ cups sliced almonds
6 cups homemade whipped cream or non-dairy whipped topping
4 cups freshly sliced raspberries or strawberries
10 to 12 nicely shaped whole berries for garnish
* If raspberries or strawberries are out of season, use other in-season fruit. Try bananas with kiwi, peaches and cherries, or whatever is available!
** If you are making homemade whipped cream, add very little sugar and a splash of cherry liqueur to give it a wonderful subtly-sweet flavor.
*** If you prefer to make this without alcohol, omit the Kahlua and use Espresso coffee and European sipping chocolate mixed together to equal about 3 cups of liquid. You can find European Sipping Chocolate at Trader Joe's.
Steps:
Cut chocolate cake into cubes.  You will need enough cake to fill the bowl about 2/3 full without the other ingredients.
Scatter 1/3 of the cubed cake into the bottom of the bowl and pour 1/3 of your Kahlua over the cake. Sprinkle the top with about 2 teaspoons of Espresso powder, or more if you want a stronger coffee flavor.
Place ½ of the raspberries or sliced strawberries over the cake and cover them with chocolate pudding, ½ of the total amount. Sprinkle the top of the pudding with 1/3 of the sliced almonds. Spoon 1/3 of the whipped cream over the almonds and smooth it out.
Now you are ready to build the second layer.  Again scatter 1/3 of the cake cubes, pour 1/3 Kahlua over the cake and sprinkle the cake with more Espresso powder.
Place the remaining ½ of the berries on top, add the remaining half of the chocolate pudding, add 1/3 of the sliced almonds and 1/3 of the whipped cream.
For the last layer, scatter on the remaining cake cubes, pour the remaining 1/3 Kahlua over the cake.
Cover the top of the cake with the remaining whipped cream, sprinkle with a little Espresso powder and scatter with remaining almonds.
Garnish with whole fresh raspberries, strawberries or chocolate covered strawberries. You can also add some shaved semi-sweet chocolate over the top!