Cauliflower and Chevre' Soufflés
Serves 4
Don't let the "S" word (soufflé) scare you!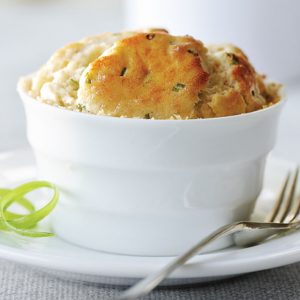 Chevre' is the French word for goat cheese. Things always sound so much better in French!!
Chevre' can take many forms, from creamy to crumbly. I use creamy Montrachet for this recipe because its consistency lends well to making a successful souffle.
What you'll need:
Unsalted butter for coating
3 Tablespoons finely grated parmesan cheese
8 ounces cauliflower florets, chopped
1 teaspoon chopped fresh lemon thyme
Kosher salt and white pepper to taste
5 ounces plain Chrevre' (Montrechet) goat cheese
¼ teaspoon finely grated nutmeg
3 whole eggs plus 5 whites
Steps:
Heat oven to 375.
Coat four 8-oz. ramekins with softened unsalted butter and coat with Parmesan cheese. Place on a baking sheet and chill.
Cook cauliflower in salted boiling water until tender, 4-6 minutes. Drain and transfer to a food processor.
Add goat cheese, lemon thyme, nutmeg, 3 whole eggs, salt and pepper and puree until smooth.
Transfer to a large bowl, chill until ready to use.
Whip egg whites into stiff peaks in a non-reactive bowl.
Fold egg whites in batches into cauliflower puree and divide between prepared ramekins.
Bake until golden and puffed, about 30 minutes.
See?  How easy was that?
Serve as the main course with a salad for a satisfying vegetarian meal!
Soufflé Tips
Eggs separate more easily into yolks and whites when they are chilled. If any trace of the yolk should go in with the white, your whites will not expand
Egg whites at room temperature foam more rapidly and to a greater volume than those at refrigerator temperature
Egg whites mount to seven or eight times their original volume, so choose the bowl size accordingly
When folding egg whites into a soufflé base, first fold one-fourth of the foam into the heavy batter to lighten it. To fold, hold a rubber spatula with the blade pointing down and cut straight down through the whites in the center of the bowl. When you touch the bottom, turn the blade to scrape along the side of the bowl and lift up the batter, turning it on top of the foam. Repeat, turning the bowl a quarter turn with your other hand for each folding motion
The classic straight-sided soufflé dish is traditionally used for soufflés, though a round or oval copper gratin pan yields a generous surface for a crusty-topped soufflé. Individual soufflé dishes are fun and easy to serve
Butter the soufflé dish or baking pan amply and sprinkle with bread crumbs, grated Parmesan cheese over the bottom and sides for a savory soufflé, or granulated sugar for a dessert soufflé
Spoon the soufflé mixture into the dish or pan, filling the dish almost to the top, so the soufflé mixture will rise up above the sides of the dish. If you want the soufflé to develop a "crown" when it puffs, draw a circle with the tip of a knife about 1 inch in from the edge of the dish and 1 inch deep
To test a soufflé for doneness, touch the center of the top. It should feel firm