Grilled Pear and Endive Salad
Serves 4
This nutritious main course salad combines savory and sweet flavors for a lovely umami taste.
It takes only minutes to prepare!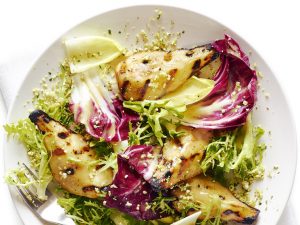 What you'll need:
4 small firm but ripe pears, Bosc, Anjou or Barlett
½ cup extra virgin olive oil
1 teaspoon Kosher salt, divided
½ teaspoon pepper
1 small head radicchio
2 small heads frisee
2 Belgian endives
3 Tablespoons sherry vinegar
1 ½ Tablespoon Dijon mustard
½ cup flat leaf parsley leaves
¾ cup toasted walnuts
3 oz. ricotta salata or pecorino cheese
Steps:
Heat a grill or skillet to medium high.
Quarter pears lengthwise, stem and core.
Toss pears in a bowl with 1 Tablespoon oil and season with salt and pepper.
Grill pears until lightly charred, 2 to 3 minutes per side.
Tear radicchio, frisee and endives into 2 to 3 inch pieces to make about 12 cups.
In a bowl or a jar with a screw top lid, whisk or shake together vinegar, mustard, salt and pepper. Add remaining olive oil and whisk or shake vigorously.
Combine parsley, walnuts and ricotta in a food processor; pulse until coarsely ground.
Toss warm pears and salad in the vinaigrette.
Spread about 2 Tablespoons walnut-ricotta mixture on each of 4 plates, then top with the salad.
Scatter remaining walnut-ricotta mixture over salads and serve.