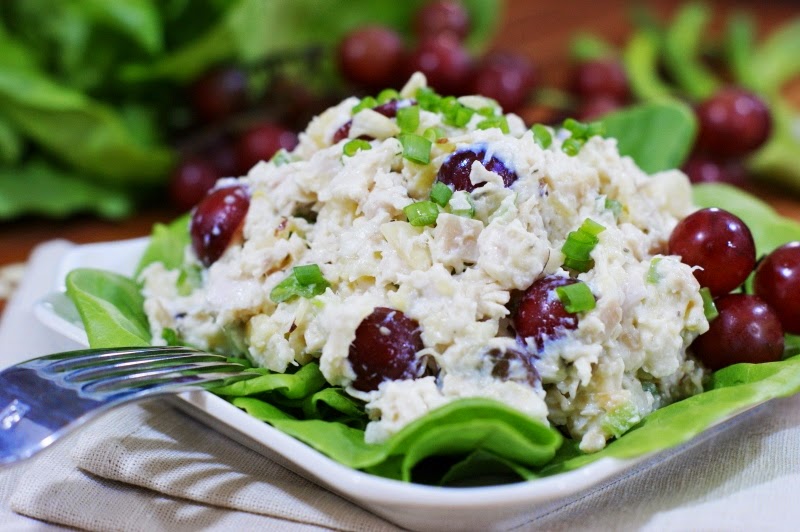 Dee's Orignial Orange Scented Chicken Salad with Pecans and Grapes
An Original Dee Thing
Everyone has their own "Best chicken salad in the world" recipe.
Try mine!  You won't be disappointed!
What you'll need:
Chicken breasts and thighs, bones and skin intact, organic free range  preferred
Cool water, enough to cover chicken
Fresh sprig tarragon
2 whole green onions
1 whole garlic clove
Kosher salt
Grapes, seedless green or flame, halved
Pecans, whole or halved
Green onion, sliced in thin, small rounds
NOTE:  You can use a pre-cooked store-bought chicken if you're in a hurry. While it will lack the tenderness of a poached chicken, it will certainly work if you're in a hurry!
For the dressing:
1 part mayonnaise (Best Foods or Homemade)
3 parts sour cream or light sour cream
Coarsely chopped fresh tarragon to taste, about 2 Tablespoons per cup of dressing
1 garlic clove per cup of dressing, crushed in press
2 teaspoons grated orange peel per cup of dressing (rind only)
1 teaspoon fresh lime juice or to taste
Salt and freshly ground black pepper to taste.
Steps:
Poach chicken with garlic, tarragon, green onions and just a pinch of salt.
The best way I've found to poach chicken is:  just cover the chicken with cool water in a large pot.  Add the herbs (you can give the chicken any flavor you want; tarragon will enhance the flavor of this recipe, but you could also use rosemary, sage or whatever you like) and salt and bring to a rolling boil.  Continue a rolling boil for 15 minutes on medium, to medium high heat.
After 15 minutes, turn the heat off, remove the pot from the heat source and let the chicken steep for 1 hour, keeping it tightly covered.  The chicken will be quite tender and will be cooked completely through.  Chicken doesn't have to be boiled to be completely cooked.  Poaching keeps the chicken tender and moist.
Remove the chicken from the pot.  When cool enough to handle, remove the skin, de-bone and refrigerate.  When cool, cut into chunks of desired size for salad and refrigerate for at least 4 hours.
Meanwhile, mix the dressing ingredients.  After mixing, allow to set for about 1 hour to blend the flavors.  Taste and adjust to suit your taste.
Make enough dressing to coat the chicken just enough –not too dry and not sloshy or gooey.  You just want a gentle coating on the chicken.  If you plan on making this salad in advance,  like a day or so, save a little dressing aside because the chicken will absorb some of it and you may want to add more before serving
Wash and halve seedless green or flame grapes.  Blend together cubed or chunked chicken, pecans, grapes (be generous with the grapes), green onions and dressing and !voila!  you've got the best darned chicken salad you've ever made!
To serve, garnish with fresh sprigs of tarragon or other pretty herbs and orange slices and serve on a bed of leafy and colorful lettuces, Belgian endive leaves, avocado halves or whole grain bread.
Enjoy!