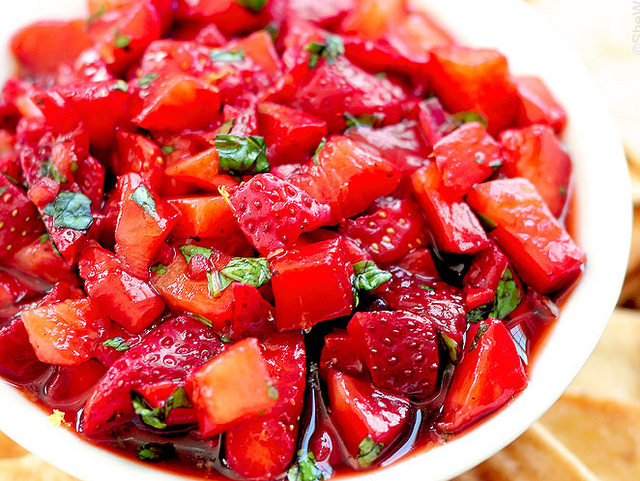 Quick, unique and elegantly delicious!
Succulent, sweet strawberries mixed with aromatic Italian basil served over homemade rosemary cornbread.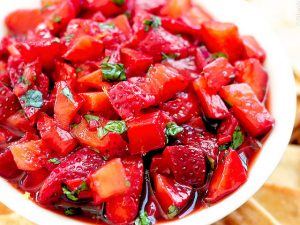 Strawberry Basil Salad with Rosemary Corn Bread
What you'll need:
2 cups fresh sweet organic strawberries, coarsely chopped
1/3 cup thinly sliced green onions
1/3 cup chopped red sweet pepper
3 Tablespoons basil leaves, torn or chopped coarsely
1 small hot chili pepper of your liking – Serrano, jalapeno, Thai—finely minced (optional)
Tiny pinch of flaked Kosher salt or fine finishing salt
1 ½ to 2 Tablespoons good quality aged balsamic vinegar
Steps:
In a medium bowl, gently combine strawberries, green onions and red sweet pepper.
Add torn basil leaves, a little salt and hot peppers to taste.
Drizzle with balsamic vinegar.
Serve over Rosemary Corn Bread
Rosemary Corn Bread
What you'll need:
1 cup yellow cornmeal
1 cup flour
1/4 cup granulated sugar
1 Tablespoon baking powder
1 teaspoon salt
1 teaspoon finely minced fresh rosemary leaves
1 cup milk or almond milk
1/3 cup vegetable or olive oil
1 large egg, lightly beaten
Steps:
Preheat oven to 400 degrees.
Combine dry ingredients including rosemary and blend together.
Whisk wet ingredients together and stir into dry, just until moistened. Pour mixture into a buttered 8 inch square baking dish or pan (cast iron works just fine, too).
Bake for 20 to 25 minutes or until inserted toothpick comes out clean.
Cool slightly and cut into small serving slices or wedges with Salsa on the side for spooning over cornbread.
You can also make individual servings by using 10-12 paper-lined muffin cups.  Fill 2/3 full and bake for 15 minutes.