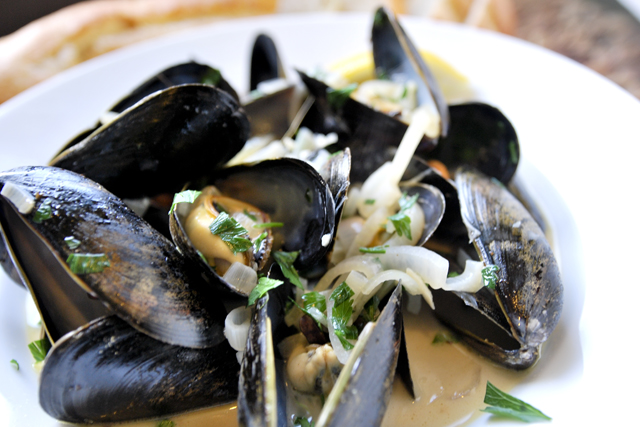 Mussels in Wine & Broth with Garlic, Fennel and Herbs
Serves 4 as a main course
What you'll need:
4 pounds fresh live mussels
4 large shallots, chopped
2 Tablespoons chopped fresh fennel bulb
8 large cloves garlic, chopped
2 cups good quality dry white wine, such as Pinot Grigio or Chardonnay
2 cups good quality low sodium chicken broth (home made preferred)
Handful of coarsely chopped fresh herbs, such as flat leaf parsley, basil, chervil
3 Tablespoons butter, divided
2 Tablespoons olive oil
Pinch of Kosher or sea salt
Steps:
Keep live mussels in the refrigerator in an open container (such as the mesh bag they came in, set in a bowl) and use within 24 hours of purchase.  If you want to cover the bag, do so only with a damp tea towel to allow for air circulation.
When you are ready to cook them, scrub the mussels under cold running water to remove "beards". The beard is the seaweed that the mussel closes her shell around. Because the mussel is alive, she doesn't always want to give up her seaweed! Take care when removing it by tugging gently with your fingers or a knife, so that you don't break the shell.
If you come across any broken shells or open mussels that do not close after pressing mussel lips together for 10 seconds, it is likely not alive and must be discarded.
Once all mussels are cleaned and "de-bearded", you are ready to begin cooking. Choose a large wok or skillet that will accommodate all of the mussels.  A wok works particularly well.
Melt 2 Tablespoons of butter and olive oil in the wok and when melted, add shallot and fennel and sauté until translucent. Add garlic and salt and stir until garlic is soft.
Turn the heat to high. Add the mussels and stir to coat with the shallot-fennel mixture.  Once all mussels are coated, add the white wine and let it sizzle then boil for about 1 minute, gently stirring the mussels around in the wine.
Add the chicken broth and swirl about. Cover and continue cooking on medium high heat until all the mussels have opened.  This should take about 4 to 5 minutes at most.
Add the remaining 1 Tablespoon of butter and herbs and gently stir into the mussels and broth.
Serve with lots of crusty bread for dipping.
Elegant the fabulously delicious!!