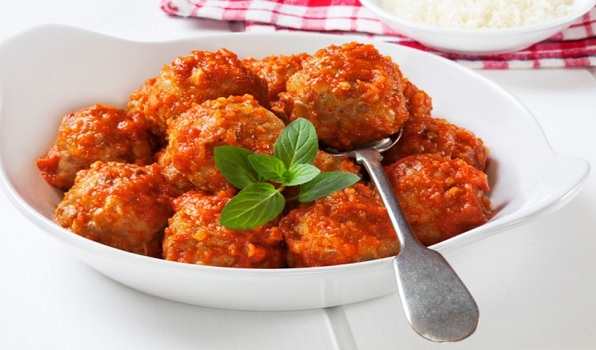 Dee's Meatballs with Raisins and Pine Nuts
and
Sweet Basil Tomato Sauce
Makes 18 large or 30 small meatballs
These meatballs can be served with pasta, in a sandwich or as a stand alone with a salad.
They can be made with any combination of meat you fancy – all turkey,  beef, beef and pork or a combination.  Don't skimp on the golden raisins!  They add a wonderful sweetness and happy surprise with each bite.
What You'll Need:
For a quick and easy  sauce
Two 28 oz. Cans good quality, peeled, organic tomatoes*, with liquid
3 Tablespoons julienne sun-dried tomatoes in oil (Trader Joe has good quality)
10-12 fresh basil leaves
¼ cup extra virgin olive oil
Sea salt and freshly ground pepper
For the Meatballs
4 slices whole wheat firm-textured bread
Enough low-fat milk, almond or soy milk to cover bread
4 large eggs, beaten
6 cloves garlic, minced
1/3 cup chopped flat leaf parsley
2 Tablespoons minced fresh marjoram or fresh lemon oregano
1 pound organic ground turkey*
1 pound organic ground pork*
1 pound organic ground beef (7% fat)*
1 cup golden raisins, chopped (for added flavor, plump in white or madeira wine)
½ to 2/3 cup toasted pine nuts
½ cup freshly grated Parmigiano-Reggiano cheese, plus more for serving
¼ cup plain, fresh breadcrumbs
¼ to 1/3 cup olive oil for frying
* I have found the best organic canned tomatoes to be either Trader Joe's diced organic tomatoes or San Marzano canned tomatoes imported from Italy. The quality of your canned tomatoes really makes a difference!
For Meatball Sandwiches
Crusty bread of your liking, either rolls or a whole loaf, warmed in the oven.
Steps:
Pour the tomatoes and liquid from the cans into a large enameled cast iron pot or other non-aluminum cooking pot. Add the sun-dried tomatoes and crush the whole thing with a potato masher. Add the olive oil (don't skimp) and season with salt and pepper.  Bring to a boil. Reduce the heat to low and simmer for one hour, covered.  Add about 6 of the fresh basil leaves, chopped or torn, to the pot while the sauce cooks and then just before serving, add another handful of chiffonade of basil for color and to freshen the flavor.
Meanwhile, in a bowl, soak the bread in milk of your choice until saturated. Squeeze out most of the milk and transfer the bread to a large bowl.
Mash the bread to a paste and stir in the beaten eggs, garlic, fresh herbs, 2 teaspoons of salt and ½ teaspoon of the pepper.
Mash until smooth. Add the turkey, pork, beef, drained golden raisins, pine nuts and grated cheese and mix lightly until combined.
Add the dry breadcrumbs, 1 Tablespoon at a time, and work the mixture until it holds together enough to form meatballs. Not too stiff and not too juicy, but you want them on the moist side. They will be a bit sticky.
Preheat the oven to 350 degrees.
Form the mixture into meatballs the size you want. You may want to make them large, about the size of your palm for sandwiches or a main dish. If you are planning to serve the meatballs with pasta or as a side dish, you may want to make them smaller, a bit bigger than a golf ball.
In a large seasoned or non-stick skillet, heat the olive oil until shimmering.
Add the meatballs in batches so as not to crowd them in the pan and fry quickly over medium-high heat, turning until golden brown on the outside. They may flatten out a bit.
Place the browned meatballs on a prepared baking sheet. I prefer to use parchment paper to line the pan.
If you are making larger meatballs, bake in a 350 degree pre-heated oven for about 30 minutes. If smaller, bake for 15 to 20 minutes.  Avoid overcooking.
At this point, the meatballs can be chilled, then frozen. To freeze them, place them on a cookie sheet so they aren't touching and freeze for about 4 hours or so.  After 4 hours, remove to a baggie or other freezer container and freeze completely. This will allow you to take however many meatballs you want out for use, so you don't have to defrost the whole bag!
When you are ready to serve, transfer the meatballs to simmering sauce and cook gently just to warm through. This usually takes about 30 minutes.
If you are serving as a main course, you will want to make them large and plan for 2 per person. Serve with ample sauce and a simple green salad with oil and vinegar dressing. A slice of crusty bread to sop up the great sauce would be ideal. Just sprinkle a little more Parmesan cheese over the top and serve with a nice Chianti.
If you are making meatball sandwiches, use either crusty rolls or a loaf (not a baguette because there won't be enough room for the meatballs!) that has been baked until crusty in the oven.  Cool a little and then slice open lengthwise and scoop out some of the soft inside to make a little cradle for the meatballs to lie in.  Scoop in the amount of meatballs you need to fill up the bread and sprinkle a little more Parmesan over the top. Serve open-faced and let your guests figure out how to eat them!  Serve with lots of napkins . . . messy, but so very good.  This way, you'd probably want to serve an ice-cold golden ale or your favorite Italian beer!  Believe me, you won't have room for a salad!
If serving with pasta, plan for two per person, but these are so good, your family or guests will want more!