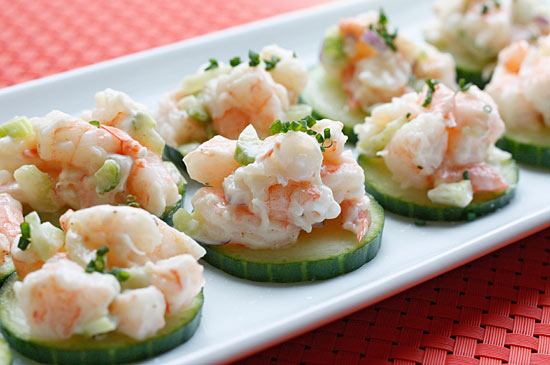 Scallop, Shrimp and Crab Salad w/Creamy Tarragon Dressing
The delicate sweetness of seared scallops  and tarragon balances with the tang of horseradish.
Either tuck inside an avocado as a salad or top crispy cucumber rounds for a mouthwatering appetizer.
Dee-Lightful!
What you'll need:
12 large "dry" scallops*
1/2 cup cooked lump crab meat
12 jumbo shrimp
2 Tablespoons clarified butter OR
2 Tablespoons canola oil
Sea salt
Dressing:
½ cup good quality olive oil mayonnaise (Best Foods/Hellman's)
½ cup sour cream
½ cup Greek yogurt
Zest of 1 lemon
1 Tablespoon fresh lemon juice
2-3 Tablespoons chopped fresh tarragon leaves
3 Tablespoons chopped celery leaves
1 green onion including green top, finely minced
1-2 Tablespoons good quality prepared horseradish
Sea salt to taste
Salad: 2 large ripe avocados, halved and pitted
Appetizer: Crisp cucumber rounds from an English cucumber
Butter lettuce leaves for serving (optional)
Garnish with tarragon leaves, chopped chives, or green onion tops for serving (also optional)
*Dry scallops are not treated with sodium tripolyphosphate  or STP, as "wet" scallops are. The chemical STP is reportedly safe to ingest, however prevents searing because it causes the scallop to suck up moisture which is released during cooking; thus, wet and gooey scallops that will never sear!
Steps:
Start by searing the scallops in oil or clarified butter. Not a good idea to use regular butter because the milk solids will fleck onto the scallop and the butter will blacken due to low smoking point.  Use a heavy cast iron or stainless steel pan, add the oil and let the pan become smoking hot.
Add the scallops without crowding the pan and cook on one side until the bottom begins to form a nice golden crust. Once this happens, turn the scallop over ONCE and cook just long enough to warm through. Remove from heat and set aside.
Add more oil or clarified butter to the pan and cook the shrimp as you did the scallops.  They will not take very long – maybe 1 minute total. Overcooking will result in rubbery shellfish – not the object here! Set cooked shrimp aside to cool.
Once the scallops and shrimp are cooled, cut them up into 1/3 to ½ inch pieces and mix with picked crabmeat. Refrigerate until ready to use.
In a medium bowl, blend the mayo, sour cream and yogurt together. Add minced green onion and finely chopped celery and tarragon leaves. Grate zest of 1 lemon into mixture and add lemon juice and salt to taste.  Add horseradish to taste, taking care not to overwhelm the delicate flavors.
When ready to serve, mix the prepared seafood into the creamy dressing. Taste and adjust seasonings.
If serving as an appetizer, slice cucumber rounds uniformly about 1/4 inch thick. Arrange on a serving platter. Top with tarragon leaves or chives.
If serving as a salad, spoon mixture into pitted avocado halves that are set inside butter lettuce leaves. You may want to top the salad with additional tarragon leaves, chives or green onion tops, but this is optional.
Grate freshly ground pepper over the top and voila!
Delightful creamy seafood salad a la Dee!