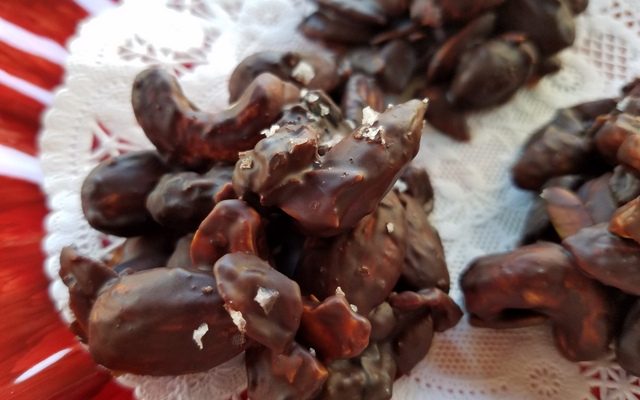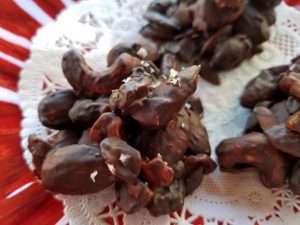 Spicy Fruit 'n Nut Chocolate Clusters
A decadently delicious treat that is fun and oh so easy to make!
The "Spicy" part is optional, but adds a flavorful yet gentle spark to each bite.
What you'll need:
1/2 cup whole raw almonds
½ cup whole raw cashews
½ cup hulled pepitas (pumpkin seeds), salted
½ cup shelled raw pistachios
½ cup dried cranberries
½ cup dried tart cherries
4 oz. bittersweet chocolate OR
2 oz. bittersweet and 2 oz. milk chocolate
½ teaspoon Ancho chile powder, or to taste
Coarse sea salt
Steps:
Place raw nuts on a lined baking sheet and toast all nuts in a 350 degree oven for 10 minutes or until nuts are golden and fragrant.
Transfer nuts to a bowl and mix together with cherries and cranberries.
Melt chocolate in a large bowl in the microwave in 1 minute increments, stirring after each minute. Sprinkle in Ancho chile powder and stir to blend.
Stir in fruit and nut mixture and combine so that the mixture is completely coated with chocolate.
Spoon mixture onto parchment or waxed paper lined baking sheet in 1 Tablespoon increments.
Sprinkle the tops with coarse sea salt.
Chill until set, about 30 minutes. The clusters can be stored in an airtight container for up to 1 week.
NOTE:  If you are a Trader Joe's shopper, all ingredients are available there.