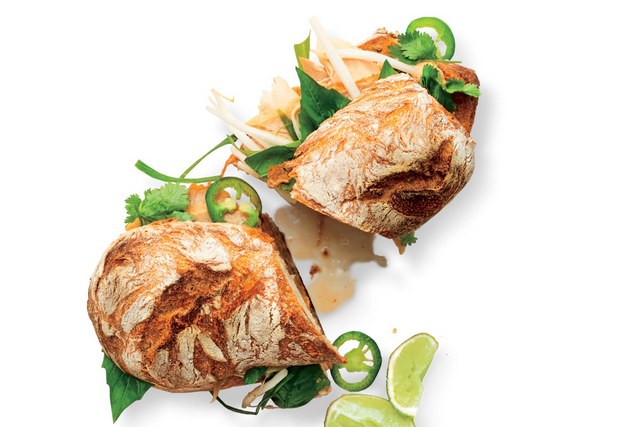 "If a French dip and a banh mi had a baby, and it was born the day after Thanksgiving….."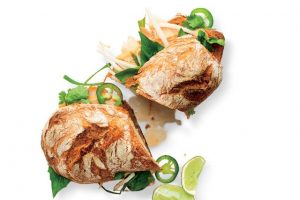 Turkey Pho Dip Sandwich
A unique and mouth watering way to use your leftover turkey!
What you'll need:
For the pho broth
1 turkey carcass
1 bunch scallions, coarsely chopped
1 inch piece peeled ginger, sliced
2 star anise pods
2 inch piece cinnamon stick
¼ cup fish sauce
3 Tablespoons sugar
2 Tablespoons coriander seeds
2 Tablespoons fennel seeds
4 quarts water
For the sandwiches
½ cup olive oil mayonnaise
1 Tablespoon sambal oelek (or to taste)
Ciabatta rolls
Hoisin sauce
I bunch cilantro
1 bunch Thai basil and/or sweet basil
Sliced scallions
Mung bean sprouts
Sliced jalapenos
Lime wedges
Steps:
Put all the ingredients for the pho broth into a large pot and bring to a boil.
Reduce heat, skim surface and simmer until liquid is reduced by nearly half, 2 to 2½ hours.
Strain broth into a large saucepan. Taste and adjust with salt if needed. Broth can be refrigerated and stored at this  point if making ahead.
When broth is done and you are ready to make the sandwiches, prep all herbs by washing thoroughly and assembling on a serving plate. Slice the jalapenos and scallions and arrange the sprouts as well.
Mix the sambal oelek into the mayo and taste – start with less, and add more according to your personal taste. This will be the spread for the sandwiches.
Place leftover sliced turkey in a skillet with enough pho broth to cover it. Gently warm through just to heat it.
Toast the ciabatta rolls until they are nice and crunchy on the outside. Slice them for sandwiches and spread some of the mayo mixture on each half. Add a dollop of hoisin on top of mayo.
Top with reheated turkey, then pile on the herbs, sprouts, green onions, mung bean sprouts and jalapenos.
Using remaining pho broth for dipping and serve with lime wedges.
WOW!