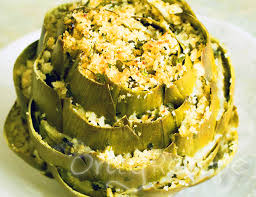 An original Dee thing, this dish can be served either as an appetizer, side, or main course.
It's garlicky, lemony and stuffed with delicious whole grain filling that gets crunchy when baked.
Dee's Stuffed Artichoke Scampi
What you'll need:
2 large or 3 medium artichokes
1 lemon
3 whole allspice berries
2 bay leaves
¼ cup extra virgin olive oil
1/3 cup finely minced garlic (OK in mini processor)
2 to 3 cups soft whole grain bread such as "Daves"
1/3 cup coarsely chopped Italian parsley
1/3 cup grated Parmesan or Pecorino Romano cheese
Lemon infused oil for drizzling
Lots of freshly grated coarse pepper
Salt to personal taste. Remember that the cheese is salty, to take care!
Extra cheese for sprinkling
Steps:
Wash artichokes by rinsing in cool water, opening leaves slightly. Cut off the sharp points from each leaf.
Select a steamer pot with a lid, large enough to accommodate artichokes.  I use my rice cooker, which has a grate for steaming. Fill the pot with water just so it doesn't cover your grate. If you don't have a lid that fits your pot with the artichokes in it, use aluminum foil to improvise one. Just be sure that the pot is covered so that steam does not escape.
To the water, add your bay leaves and allspice berries.  Now place the grate over the water and put the artichokes on it. Squeeze the juice of the entire lemon over the artichokes and put both halves of the lemon in with your artichokes.
Now put the lid on snugly and adjust the heat to ensure that there is a good steaming effect.  If you use a glass lid, you can see clearly what is happening and adjust accordingly.
Cook artichokes for 15 to 20 minutes or until done. You can test doneness by using a small wooden skewer or sharp knife and inserting it straight down to the heart. When cooked, it should meet little resistance.
While the artichokes are cooking, begin making your stuffing.
Begin by processing the bread to make coarse crumbs.
In a large frying pan or wok, add the olive oil and heat it.
Add all of the garlic and stir quickly.  Saute'  just until it is golden. Now add the soft bread crumbs and stir around a bit. Once they begin to toast, add the cheese and toss to combine. Turn off the heat and stir in the parsley.  Set aside to cool until you are ready to stuff your artichokes.
Once the artichokes are cooked, place them into an ice bath to stop the cooking process and cool them for handling.
To remove the chokes:  open the leaves near the center slightly. Pull out the small center leaves to expose the choke.  Once the choke is visible (it looks like short corn silk or a really bad hair day), take a small spoon and begin to scrape until you reach the heart. Don't go too far down, just remove the prickly choke. The heart is actually very tender and is the best part of the artichoke.
Once the choke is removed, you are ready to fill the artichoke.  First, fill the center, then add more filling in layers until the entire artichoke is filled.
Sprinkle with a little more cheese if you like and place in a 375 degree oven on the lower rack for 15 minutes.
Serve warm after drizzling with lemon infused olive oil.  This last touch will add that special flair!
If you are serving these as an appetizer, be sure to have small plates available for your guests. The heart can be cut into quarters for your guests to enjoy after all the leaves and stuffing have been eaten.
 These are fun to eat and messy and absolutely delicious.