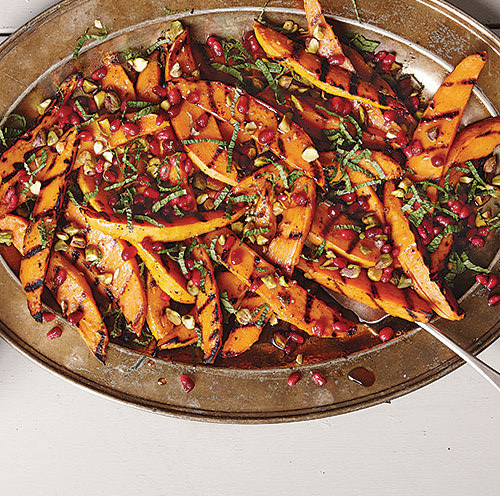 This is quite a unique side to serve any time!
Healthful and delicious!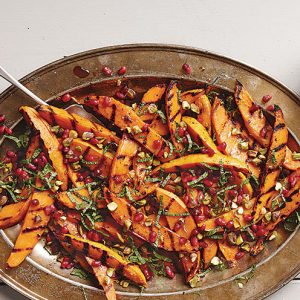 Grilled Sweet Potato and Pomegranate Salad with Pistachios and Mint
A Middle Eastern-inspired Salad
Serves 6 as a side
What you'll need:
4 Medium sweet potatoes, scrubbed
½ cup extra virgin olive oil
2/3 cup fresh orange juice
2 Tablespoons pomegranate molasses (more to taste)
1 Tablespoon red wine vinegar
½ teaspoon ground sumac (optional)
½ teaspoon granulated sugar
Flake salt and freshly ground black pepper
3 Tablespoons honey
1 Tablespoon finely grated orange zest
2 Tablespoons chopped mint leaves plus more sliced for garnish
1 cup plain Greek yogurt
1/3 cup pistachios, chopped
1/3 cup fresh or frozen pomegranate seeds
Steps:
Preheat oven to 350 and position rack to middle.
Bake the sweet potatoes on a rimmed baking sheet until their skins loosen but their centers are still firm, 30 to 40 minutes.
Set aside to cool and refrigerate until cold, 1 hour or up to 8 hours.
To make pomegranate vinaigrette: In a small bowl, combine ¼ cup of the oil with 1 Tablespoon orange juice, pomegranate molasses, vinegar, sumac and sugar. Season lightly with salt and pepper.
To make glaze for grilling potatoes: In a medium bowl, whisk the remaining orange juice, honey and orange zest. Slowly whisk in the remaining oil. Season to taste with salt and pepper.
Stir the chopped mint into the yogurt and season lightly with salt and pepper.
Prepare a medium gas or charcoal grill fire, Panini grill, or grill plate on your stove top. Brush with oil.
Peel potatoes and cut them into wedges about ½ inch thick. Brush with the honey mixture and season lightly with salt. Grill, turning occasionally, until tender and nicely marked, 2 to 3 minutes.
Arrange the grilled potatoes on a platter or divide among plates. Drizzle with 5 to 6 Tablespoons of pomegranate vinaigrette.
Sprinkle with chopped pistachios and pomegranate seeds. Garnish with additional mint and serve with the yogurt sauce on the side or dolloped over the potatoes.