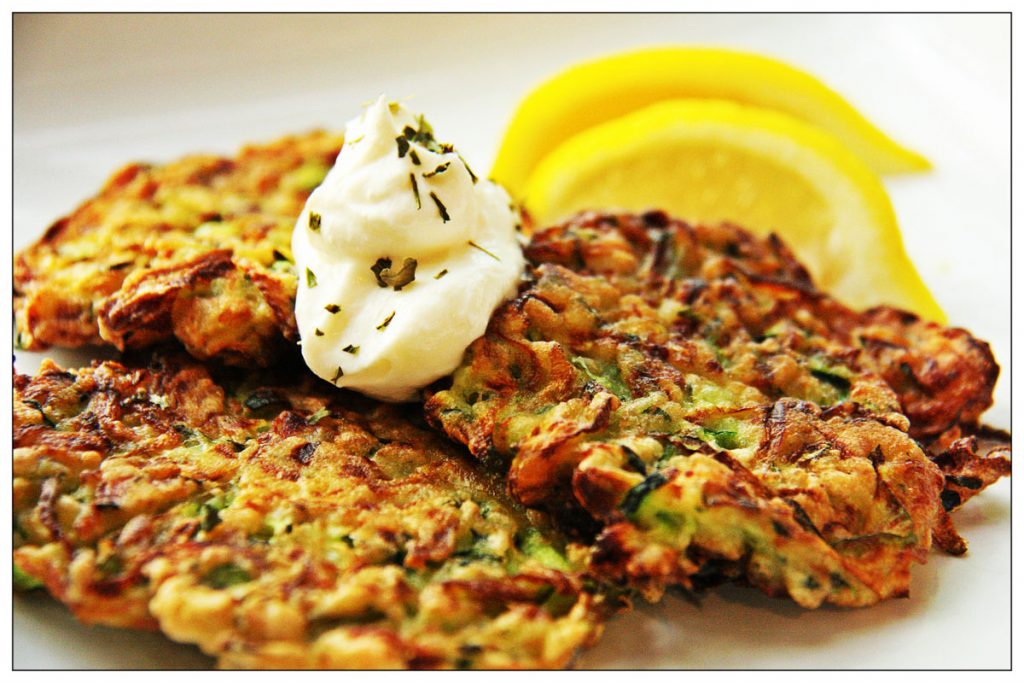 These scrumptious little pancakes will go quickly!
Look at the bottom of the recipe for a Greek style fritter using similar ingredients!
Get the cast iron skillet out for this one!
Zucchini and Corn Fritters
Serves 4
What you'll need:
2 large zucchini (about 1 pound), coarsely shredded
1 large ear of fresh sweet corn, cut off the cob
½ small sweet white onion, small dice
Kosher salt
Freshly ground pepper
½ cup all-purpose flour
2 large eggs, lightly beaten
¼ cup coarsely chopped fresh parsley leaves
¼ cup or more coarsely chopped fresh mint leaves
Light sour cream or non-fat Greek yogurt with lemon zest for topping (optional)
Steps:
Pile the shredded zucchini on a clean towel and wrap it up.  Twist the towel over the sink until the zucchini has released most of its liquid.  If you omit this step, you will have very soggy fritters!!
Place the prepared zucchini in a large bowl and sprinkle with salt.
Cut the corn from the cob and add to the zucchini. Mix it together with your hands.
Add the parsley, mint and pepper to the bowl and mix together with the corn/zucchini mixture.
Sprinkle the flour over the mixture; add the eggs and gently mix together.  Your mixture will be chunky with veggies!
Place mixture in refrigerator and let it set for about 10 minutes.
Heat a large cast iron or non-stick frying pan on medium to medium high heat.  Add canola oil and swirl about in the pan.
When the oil is shimmering, add 2 Tablespoons of the zucchini-corn mixture in dollops to the hot oil. Adjust the heat to avoid browning fritters too quickly or slowly.  Continue to add dollops of fritter mixture, but do not crowd the pan.
Cook until the bottom of the fritter is golden; turn gently with a wide spatula and cook the other side until it is also golden and the fritter is cooked through, about 2 minutes Continue cooking until all the batter is used.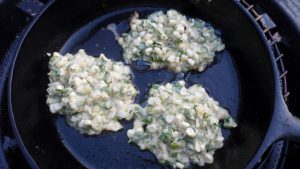 10. When cooked, drain on paper towels.  You can keep the fritters warm in a 150 degree oven (remember not to put paper towels into a hot oven…..) until ready to serve.
11. If you like, serve with a dollop of light sour cream or non-fat Greek yogurt in which you have grated some fresh lemon rind.
12. Fritters can be refrigerated and reheated, if there are any left!
GREEK STYLE FRITTERS
Zucchini Fritters with Feta and Dill
Omit corn from the above recipe and increase zucchini to 4.
Add ¼ cup of fresh dill to the fritter batter.
Add ½ cup good quality crumbled Feta cheese to batter.
Serve with Greek non-fat or regular yogurt to which you have added chopped fresh cucumber and some fresh dill leaves to taste.  Finely grate some lemon peel into the sauce and serve with the fritters.