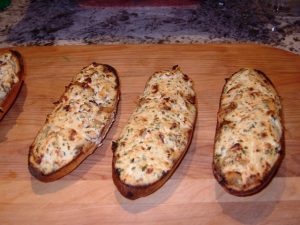 Serve this distinctively flavored vegetarian dish with a lovely tomato-basil salad or light green salad and you have a delightful light meal!
Bon Apetit!
Herbed Chevre' and Sherried Onion Baguettes
Serves 4 as an appetizer or 2 as a light supper or lunch
What you'll need:
Two 6 to 7 inch French baguettes, either whole wheat or white
1 medium onion, cut into bite-sized chunks (about 1 cup)
1 small garlic clove, crushed
Small amount olive oil for sautéing
2 Tablespoons pale dry sherry
1 Tablespoon sugar
Finishing salt and freshly ground large grind pepper
6 to 8 ounces Chevre' (goat) cheese, brought to room temperature
2 Tablespoons softened, chopped sun dried tomatoes (if using tomatoes in oil, blot to remove oil)
2 teaspoons each minced fresh tarragon leaves, basil leaves and lemon oregano or dill*
1 teaspoon fresh French thyme leaves, minced
*NOTE:  Please experiment with the herbs! Use whatever fresh herbs you might have growing or use what you have in the refrigerator. Try different combinations to see what you like best. Parsley alone will suffice if that is what you have! Chives are also a nice addition.
You can also use Chevre' with herbs already in it, which you can find in your supermarket or Trader Joe's. It's OK in a pinch, but really loses flavor in the translation! It's the fresh herbs that give this sandwich that delicate taste that sets it apart!
Steps:
Slice your baguettes in half lengthwise to make even halves.  Either grill or broil the baguette halves so that they become a nice golden color. Set aside.
In a medium sauté pan, cook the onion, a pinch of salt and a few grinds of  pepper in a small amount of olive oil over medium heat until the onion is tender, about 8 minutes.
Add the garlic and sugar and continue to cook for another 2 to 3 minutes, until the sugar begins to caramelize.  You may need to turn up the heat a little. Stir it only a couple of times.
Remove from the heat and add your Sherry; swirl about in the pan.
Return the pan to the flame and increase heat to high. Cook the onion, stirring, until a nice deep golden caramel color is obtained. Turn off heat and set aside to cool slightly.
Mix together the Chevre', minced herbs and sun dried tomato. Taste and add more herbs (or not) to your liking. Add a generous grind of pepper and mix thoroughly.
Now it's time to assemble: Spoon onions on toasted baguette halves and spread to cover entire surface. Spoon, then spread the Chevre' mixture over the onions. Be generous with the cheese and cover the entire surface of the baguette.
Broil completed sandwiches about 4 inches from the heat element until they are bubbly hot. Keep an eye on them!
If serving as an appetizer, cut halves into quarters or smaller slices.
If serving as a light supper or lunch, allow guest to determine if they want the sandwich sliced. Provide a serrated knife.