What's the secret to great fish? Buy it fresh and don't overcook it!
Here is a simply delicious and elegant salmon dish that you can put together in under an hour.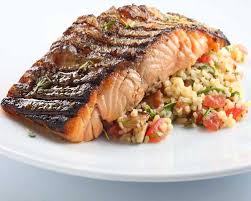 Roasted Salmon with Honey Lemon Glaze
What you'll need:
Whole cleaned salmon – 4 to 5 pounds
Juice of 1 lemon
6 Tablespoons organic honey
2 Tablespoons butter
2 Tablespoons olive oil
1 clove garlic, crushed or finely minced
½ cup brandy or dry white wine
Salt to taste
2 Tablespoons olive oil
Steps:
Heat together butter, olive oil, lemon juice, garlic, and wine or brandy until thin enough to pour.
Clean the salmon and rinse under cold water. You can remove the head or keep it on—it is a matter of preference. Pat dry with a paper towel.
Place the fish on a baking dish or sheet (about 18 x 13 x 2 inches).
Generously brush the inside of the cleaned salmon cavity with the lemon-honey mixture. Save about 2 Tablespoons of the mixture to drizzle over the fish before baking. Sprinkle with salt.
Bring the prepared fish to room temperature and allow to marinate with the lemon-honey mixture for at least an hour.
Put the oven rack in the center of the oven and set the temperature at 450 degrees.
When ready to roast the fish, drizzle the remaining 2 Tablespoons of lemon-honey sauce over the fish. Lightly cover with aluminum foil and roast for 10 minutes, then remove the foil.
Continue roasting the salmon for another 10 to 12 minutes and remove from the oven. Let the fish rest away from the heat for 5 to 6 minutes before serving.
To plate, you will need 2 large spatulas to transfer the fish to a serving platter.
Delicious served with rice or couscous pilaf and sweet basil green beans!