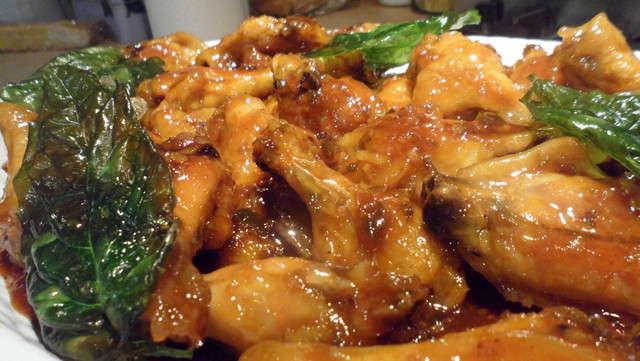 This dish will never fail to impress and satisfy.
Serve at a party as an appetizer or at home as a meal with special fried rice
and watch them disappear!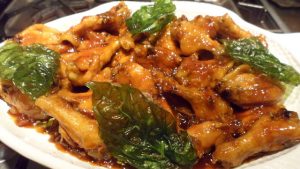 Dee's Thai Chicken Wings
This dish will become a favorite of friends and family.  From start to finish, this dish takes about 2 hours to prepare.  You can do it in advance, re-heat the wings in the oven and add the sauce just before serving.
What you'll need:
3 pounds chicken wing drummets
For the sauce:
1 cup chicken broth
1 cup sugar
1 Tablespoon cornstarch
2 teaspoons paprika (sweet or hot, your choice)
¼ cup fish sauce (nam pla or nuoc mam)
2 Tablespoons soy sauce
2 Tablespoons cider vinegar
1 to 2 Tablespoon canola oil
1/3 cup minced garlic
3 Tablespoons fresh minced jalapeno peppers
Optional garnishes:
1/2 cup slivered fresh basil leaves
Roasted red pepper slices
Transparent basil leaves:
6 to8 fresh whole basil leaves, patted dry
¼ cup canola oil
Steps:
Rinse wings and pat dry.  Place wings in 1 layer on a cookie sheet that you have lined with aluminum foil or parchment. Spray with non-stick cooking spray.
Bake, uncovered in a 400 degree oven until golden and crisp, about 1 hour, turn half-way through cooking process.   Drain off fat.
While the wings are baking, begin the sweet and spicy garlic sauce.  In a bowl, mix the dry ingredients together: sugar, cornstarch and paprika.
In another bowl, mix the wet ingredients together: chicken broth, fish sauce, soy sauce and cider vinegar.
Pour the wet ingredients into the dry and mix well.  Set aside.
Mince by hand or process in a mini processor, the garlic and jalapeno, seeds and all. Do this separately because you want to cook the garlic first and then add the jalapeno
Set a 4 to 5 quart pan or wok over high heat and add oil. When the oil is  hot, add the garlic and stir fry until the garlic begins to turn golden; now add the jalapeno and stir fry together until fragrant, about 2 to 3 minutes more.
Add broth and sugar mixture; stir often until sauce boils.  Low boil, stirring until reduced to about 1 1/4 cups, 10 to 15 minutes.  (Use, or cover and chill up to 1 day.  Reheat to use.)
With a slotted spoon, transfer wings to warm garlic sauce, mix well.
To serve, pour wings onto a platter, scatter with basil, red pepper and transparent basil leaves.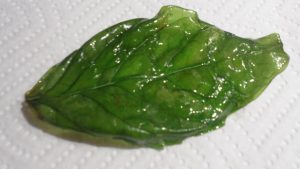 Transparent basil leaf
This is a little tricky, but will add to the presentation and flavor!
To make transparent basil leaves:
Rinse 1 cup fresh basil leaves.  Spread out on towels and dry THOROUGHLY to minimize spattering.  Keep a lid near-by.
In a deep 3 to 4 quart pan, heat 1 inch salad oil to 370 degrees.
Fry a few leaves a time (these will pop and spatter, so use the lid until this subsides) until they turn bright green and somewhat transparent, 15 to 20 seconds.
Take care not to scorch them.  Transfer leaves from oil with a slotted spoon and drain on paper towels.  Leaves are more transparent when cool.  Use as a garnish on your wings, or if making ahead, store airtight in a towel-lined container up to 3 days.
ENJOY!