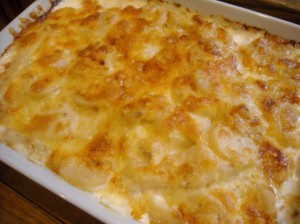 Potatoes Dauphinois al la Dee
This South Eastern French dish is decadently delicious!
It is easily prepared and elegant to serve as a side or vegetarian main with a green salad.
There are many ways to prepare Potatoes Dauphinois. There are also many names for this dish, such as Potatoes Anna, Potatoes in Cream, Scalloped Potatoes and many more.  This recipe simplifies the preparation but keeps richness and flavor. You can make it without the cheese if you prefer, but I like the nice balance the cheese blend brings.
Experiment and enjoy!
What you'll need:
3 pounds (about 6 medium) Yukon Gold or Russet potatoes
1 teaspoon flake salt
½ teaspoon white pepper
1/8 teaspoon grated nutmeg
¾ to 1 cup combined Swiss and Gruyere cheeses, grated
2 to 2 1/2 cups heavy cream
1 Tablespoon butter for buttering the baking dish
½ clove garlic for the baking dish
2 ½ to 3 quart shallow baking dish
Steps:
Preheat oven to 375 degrees.
Peel the potatoes and slice them 1/8 inch thick.  You can use a mandolin or food processor to make the slices uniform.
Rub the baking dish with the cut garlic. Smear the inside of the dish with the butter.
Spread half of the sliced potatoes in the bottom of the buttered dish. Divide over them half the salt, pepper, nutmeg and cheese.
Arrange the remaining potatoes over the first layer, and season them.
Pour on cream, enough to come ¾ of the way up but not cover the potatoes.
Sprinkle on remaining cheese.
Bake in 375 degree oven for 1 hour and 15 minutes or until potatoes are tender and the top is golden. The cream should be totally absorbed and the potatoes soft and creamy.