Looking for something for a special dinner appetizer or gathering?
You will not believe how simple and easy it is to WOW your guests with this parfait!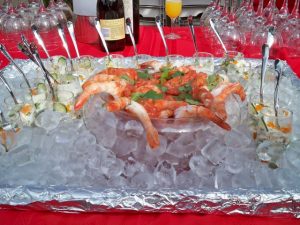 The photo above shows Dee's party shrimp cocktail surrounded by the crab parfaits which have been plunged into ice to serve 20 guests.  Improvise with what you have for presentation.  A large glass bowl filled with ice will work just fine!
Dee's Crab and Caviar Parfait
with Wasabi Cream
Serves 4
What you'll need:
½ cup finely chopped celery
½ cup finely chopped English cucumber
¼ cup minced fresh chives or green onion tops
½ pound shelled cooked crap (1 cup)
(Good quality canned lump crab is OK, but as always, fresh is best!)
Creamy wasabi dressing (see below)
½ cup tobiko (red) caviar or salmon caviar
4 to 8 very thin slices English cucumber
Fresh chive spears
Steps:
In a bowl, mix celery, chopped cucumber and minced chives.
Spoon 2 Tablespoons crab into each of 4 stemmed glasses
Divide the celery mixture and the creamy wasabi dressing caviar among glasses. Repeat layering, ending with caviar.  If using salmon caviar, rinse and drain before using.  Do not rinse tobiko caviar.
Garnish parfaits with cucumber slices and chive spears.
For the Wasabi Cream:
¼ cup olive oil mayonnaise
¼ cup low fat sour cream or non-fat Greek yogurt
1 teaspoon grated lemon peel
1 teaspoon lemon juice
1 ½ to 2 teaspoons prepared wasabi or to taste
Whisk  mayonnaise, sour cream or Greek yogurt, lemon peel, lemon juice and prepared wasabi to taste, together in a small bowl or measuring cup.
Serve ice cold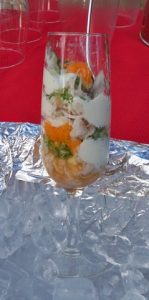 Deliciously elegant!