Here is a delicious, fairly simple and rather elegant dish for you to try!
These beautiful little tarts can be served as a main dish with a tossed green salad, or as a side with a great piece of grilled fish, chicken, lean meat.
Try serving with grilled veggies (pictured below) lightly brushed with olive oil.
This is a fantastic way to stay healthy and meet your goal of eating more vegetables!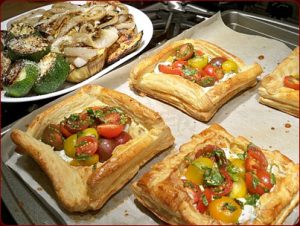 Dee's Fresh Tomato Tart
with Chevre' and Fresh Herbs
Serves 4
What you'll need:
2 sheets frozen puff pastry (17 oz box)
1 egg yolk beaten with
1 Tablespoon water to make an egg wash
8 oz. Chevre' (French name for goat) cheese
3 teaspoons each chopped fresh tarragon, basil leaves and parsley
*NOTE: You can buy herb-flavored goat cheese or even use Rondele', but adding your own fresh herbs is more flavorful!  Experiment with different herbs to your own personal taste.
4 Tablespoons milk (regular, almond or soy work)
8 each red and yellow cherry or baby heirloom tomatoes, halved and tossed in olive oil
Salt and black pepper to taste
2 Tablespoons minced or chiffonade of fresh basil
Steps:
1. Preheat the oven to 400 degrees.
2. Thaw puff pastry according to package directions.
3. Cut one pastry sheet into 4 even squares.   Place squares on a parchment-lined
baking sheet.
4. Cut remaining sheet into 8 strips, each about 3/4 inch wide. There will be remaining
pastry dough left. You can either re-freeze it or use it later to make a smaller tart.
5. Cut the 8 strips in half crosswise to make 16 strips, each 4 to 5 inches long.
6. Place four strips around the edge of each pastry square, overlapping the corners.
The idea here is that you are making a little box to hold your tart together.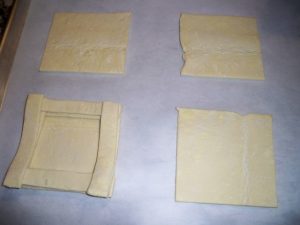 7.  Lightly baste pastry edges and corners with egg wash. Bake until puffed and
     brown, 20 to 25 minutes.
8.  Whisk together Chevre' and milk.  Add the chopped herbs and fold in.
     Divide the mixture among the tarts, spreading out from the center with a
     spatula, pressing gently down to deflate the centers.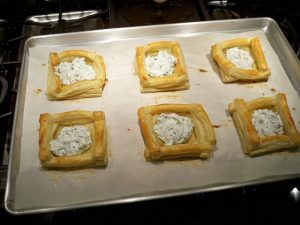 9.  Top the cheese mixture with the colorful halved tomatoes that have been tossed in
     olive oil,  salt and pepper.
10. Return the tarts to the oven and bake for an additional 5 minutes or until the
     tomatoes are warmed through.  Remove tarts from the oven and top with
     chiffonade of fresh basil and an extra grind of coarse pepper.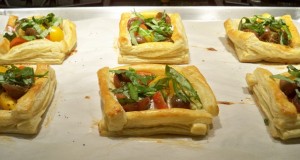 Serve hot from the oven or at room temperature!
These are just delicious!