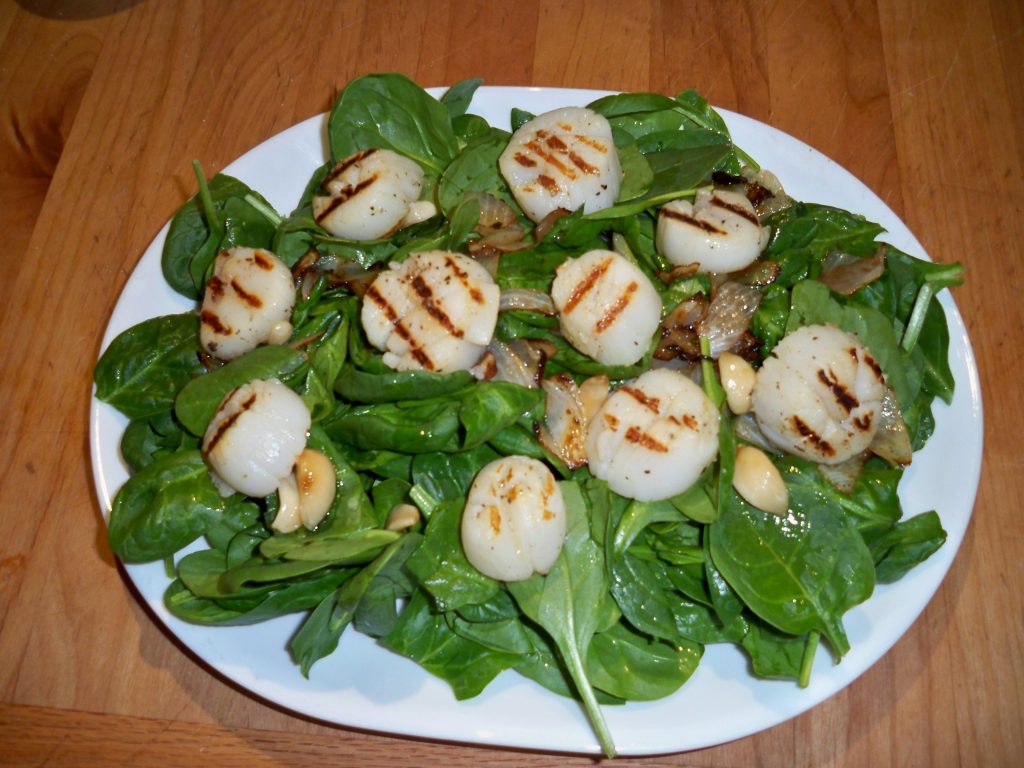 While this salad may look complicatedat first glance, it's really not.  It took me about 30 minutes to prepare from start time to sit down to eat time!  As with all recipes, just have all your ingredients ready to go. Once everything is prepped, it's a snap!
This is a healthy yet fabulously delicious salad using just 2 Tablespoons of olive oil for the entire recipe. You can choose to omit the pancetta, which will save you even more fat, calories and cholesterol or add it for added flavor.
Just so you know, for each 4 oz. of scallop, there is about 90 calories, 0.9 grams of fat and 38 mg. of cholesterol.
The salad pictured above was made without the pancetta or the Parmesan and was full of flavor and very satisfying. Either way, this is a great salad!  Enjoy!!
Dee's Spinach & Grilled Scallop Salad
with
Glazed Onions and Roasted Garlic
Serves 4 to 6
What you'll need:
1 pound organic baby spinach leaves, washed thoroughly
1 medium Vidalia or other sweet onion
10 or so cloves roasted garlic, prepared in advance
6 ounces pancetta (Italian bacon) finely cubed (optional)
12 to 16 DRY sea scallops*
1 large, juicy lemon (about ½ cup juice)
2 Tablespoon extra virgin olive oil, divided
Finishing salt or sea salt
Lots of freshly ground black pepper
Freshly grated Parmesan cheese (optional)
Steps:
1. Even if your spinach has been washed, rinse it again in cold water and dry it either in a salad spinner or dry tea towel.  Arrange spinach nicely on a serving platter. Sprinkle the roasted garlic cloves over the top of the spinach. You can cut them up if you prefer.
NOTE:  To roast garlic, use either the whole bulb (with the top cut off to expose the cloves) or already peeled cloves. Put in an aluminum foil wrap and drizzle with a little olive oil and squeeze the top of the wrap together like a little purse.  Roast at 375 for 1 hour or more until nicely golden and they have a nutty fragrance.
2. Cut the onion in half, parallel between the root and stem end. Cut in half again, horizontally. Now cut "half moon" shape wedges and set aside. You may not need all the onion. It is a matter of taste.
3. Prepare the scallops by placing them in a small bowl and pouring 1 Tablespoon of the olive oil over them. Now squeeze in the juice of half a lemon. Add a little salt and pepper and mix together with your hands, coating each scallop with the mixture.
4. Set scallops aside for no more than 10 minutes. You will reserve the marinating liquid for your dressing.
5.  Heat a dry (non-stick is best) grill pan to searing hot. Place the marinated scallops on the pan and cook for 1½ to 2 minutes on each side. DO NOT OVER COOK!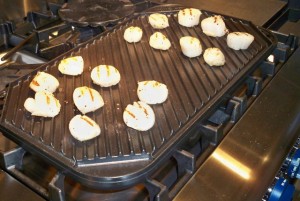 6. IF YOU ARE USING PANCETTA, while your scallops are grilling, you can begin frying it in a small dry frying pan until crisp and golden.
7. Remove pancetta from the pan, reserving about 1 teaspoon of fat and drain cooked pancetta briefly on paper towels.
8.  Decoratively place the cooked scallops over the salad and sprinkle with drained pancetta.
9. Add the onion to the pan. Cook over moderately high heat until the onion is glazed. This should only take a few minutes.
10. IF NOT USING PANCETTA, cook onion in 1 Tablespoon of the remaining olive oil with a little salt. When onion is cooked, scoop it out of the pan, reserving the drippings, and sprinkle the onion over the salad. DO NOT drain the pan. The drippings are part of our dressing.
11. Again heat the pan. Add the marinating liquid to the hot pan and if you have not used the remaining 1 Tablespoon of olive oil, add it now.  Squeeze the remaining half of the lemon into the pan. Using a non-stick spatula or wooden spoon, deglaze the pan to blend all the lovely flavors, scraping up all the bits on the bottom of the pan. Add a healthy grind of pepper and just a little salt.
12. Pour the dressing over the salad, toss briefly and sprinkle with a small amount of Parmesan, if desired
Serve with crusty warm sour dough or Italian bread and on the side, have little bowls of olive oil with a drizzle of sweet balsamic vinegar, salt and a grind of coarse black pepper for dipping!
*DRY SEA SCALLOPS have not been treated with a chemical called STP (sodium tripolyphosphate). Wet scallops have been treated with this chemical to help them stay plump.  Because of this, you will end up paying more for the "wet" scallop" because when you cook it, all the moisture comes out in your pan! It is virtually impossible to brown these scallops because of the excess water and many times, they end up tasting rubbery. If it is not marked, ask whether the scallop is "dry" or "wet".