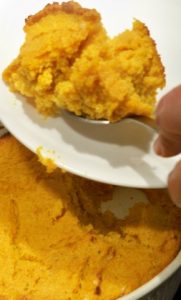 This is one of my favorite creations because it can be served with an elegant meal or with a salad for a quick family dinner. Carrots are available all year long , but now, they are at their sweet best and can be found in an array of beautiful colors at many local Farmer's Markets.
I have kept the fat and calories low by using non-fat Greek yogurt and egg whites with only one egg and 2 Tablespoons of butter for the entire recipe.
This is a great recipe for people who think they don't like carrots!!
Dee's Sweet and Savory Carrot Puff
Serves 6
What You'll Need:
2 pounds carrots, peeled (7 or 8 large carrots)
2 egg whites (bring to room temperature)
¼ cup fat free Greek yogurt
3 Tablespoons flour
1 teaspoon baking powder
1 Tablespoon fresh thyme leaves (lemon thyme, if available)
NOTE: You can use dried thyme leaves, but the flavor will be more intense. Try starting out with only a half teaspoon of dried thyme. Taste and adjust to your liking. Please DO NOT use the powdered thyme for this recipe. It will overwhelm everything!
Sea salt and freshly grated white pepper to taste
1 whole egg
2 Tablespoons melted butter
1 Tablespoon pure maple syrup or to taste
¼ cup brown sugar (to taste, according to sweetness of the carrots—you may need less)
You can use a 1-quart soufflé dish, ring mold or if none of these are available to you, you can use a glass baking dish.  You will not get the same rise from the baking dish as in the soufflé dish, but the taste will still be just fabulous!
Steps:
Pre-heat your oven to 375 degrees and spray your baking dish with cooking spray. You can also coat with a thin film of butter, but that just adds more calories and fat. It's up to you.
Cut up your carrots into pieces. Cook them either in boiling water, steam them, or in the microwave until very tender. If boiling or steaming, about 15 minutes.
While the carrots are cooking, whip the egg whites until soft peaks form and set aside.
When the carrots are tender, put them in the bowl of a food processor and process until smooth.
Add maple syrup, thyme leaves, melted butter, brown sugar, Greek yogurt, 1 whole egg, flour, baking powder, salt and pepper.
Blend all the ingredients together and pour into a bowl.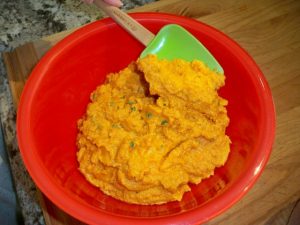 7.  Using a spatula, gently fold or lightly mix the egg whites into the carrot mixture.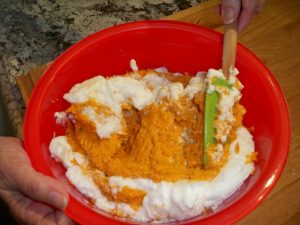 8. Now spoon it into your soufflé dish or whatever you are using. Bake for 50
minutes at 375 degrees or until a little puffed and golden.
9. When finished baking, try a sprinkle of fine finishing salt over the top or even a
little sprinkle of sugar just for fun!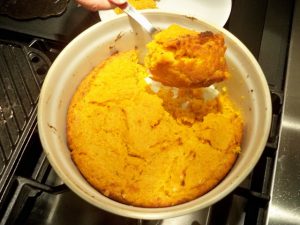 Serve hot out of the oven! Yum.