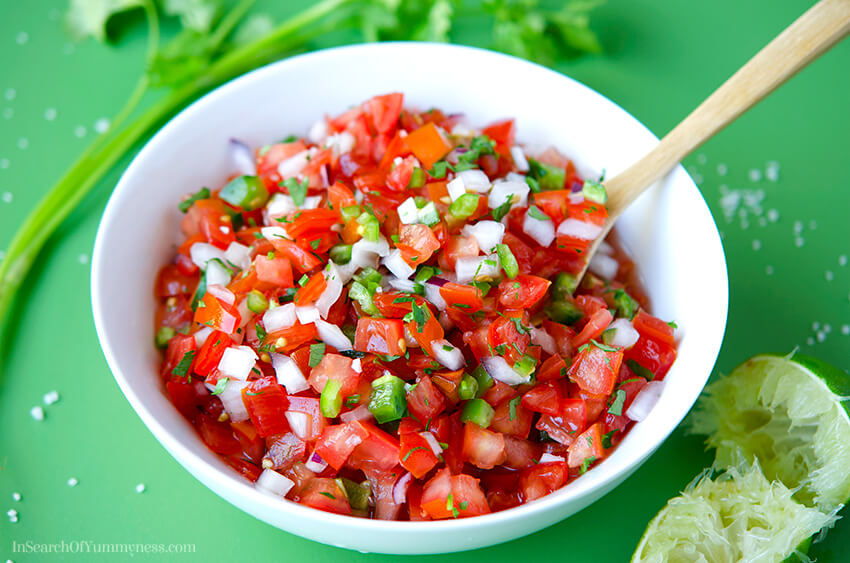 Pico de Gallo
Fresh Tomato Salsa
You can make this easy, chunky salsa as spicy or mild as you like. It's always a hit!
Use with Fresh Corn Tortilla Chips or top your favorite Mexican dish such as Nachos, Tostadas or Tacos.
What you'll need:
6 large, very ripe tomatoes (vine-ripened, if available)
1 medium to large onion
1 large bunch fresh cilantro
3 to 6 fresh Serrano chilies
1 or 2 juicy limes
1 juicy lemon
2 to 3 Tablespoons olive oil
1 clove garlic, crushed
Salt to taste
Steps:
Wash the veggies thoroughly. The cilantro can be full of grit if not washed well.
Chop tomatoes and onions to a medium coarse texture. (You want to have the pieces large enough to taste individually, but small enough not to overwhelm–about 1/4 inch) and place into a large non-reactive bowl.
Add 1 clove crushed garlic and mix into tomatoes.
Finely chop the Serrano chilies. If you have latex gloves, using them wouldn't be a bad idea. Oils from the chili will remain on your fingers and can cause eye irritation if accidentally rubbed into the eye, even after a prolonged period. Lemon juice helps to remove the oils on fingers. Add chilies (to taste) to the tomatoes and onions.
Chop thoroughly washed cilantro coarsely. Add to tomato mixture.
Squeeze lemon and lime juices over chopped veggies. Mix together gently. Add olive oil and salt to taste. Adjust spiciness, salt and citrus to your liking.
If you let salsa set at room temperature for an hour or so before serving, you will find that it tastes a little richer.