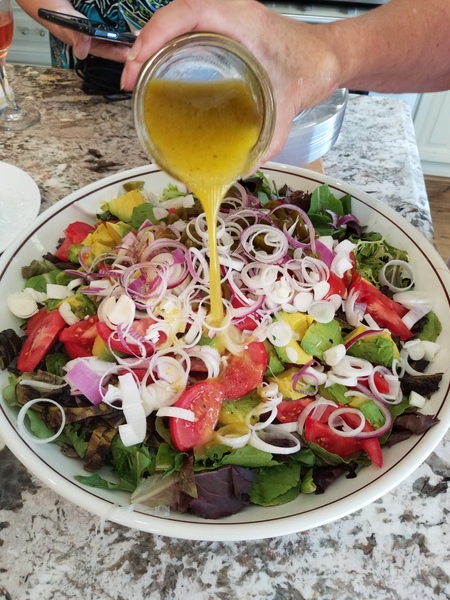 Nopales are from the paddle of the prickly pear cactus and are available either in the whole cactus paddle or pre-cut and packaged in most Mexican or ethnic specialty stores.  Studies show that Nopales can actually lower the blood sugar and have been used in the Mexican diet for many years.
What you'll need:
Salad:
2 cups nopales, sliced into strips or cubes
Field greens or baby lettuces
1 medium tomato
1 small red onion
1 Poblano chili
2 pickled jalapenos
1 cup roughly crumbled queso fresco (Fresh farmer's cheese)
Dressing:
¼ rice vinegar
¼ cup extra virgin olive oil
1 teaspoon honey
1 Tablespoon minced parsley
2 ½ Tablespoons orange marmalade
½ teaspoon smoked paprika (or to taste)
½ small shallot finely minced
Salt and freshly ground pepper to taste
Steps:
If you have a whole cactus paddle, shave off spines carefully, rinse, then coat with oil and grill or broil until cooked through and golden brown or slightly charred. Cut into strips or cubes and chill.
If you are using precut nopales, they can be broiled or placed on a grill plate on your outdoor grill and browned, then chilled.
Roast, peel, seed and dice the Poblano chili and set aside. Poblano chilies are low on the heat scale.
Cut the tomato into wedges and slice the onion into half-moons and set aside
Slice the pickled jalapenos and set aside.
Whisk the dressing ingredients together in a large bowl and whisk, or put all ingredients into a shaker jar and shake until combined. Taste and adjust to taste.
When ready to plate your salad, place a handful of greens on each plate. Top with nopales, Poblano slices, tomato and onion. Mix lightly together.
Pour desired amount of dressing over salads and top with slices of pickled jalapeno and a generous sprinkle of queso fresco.
Serve immediately.