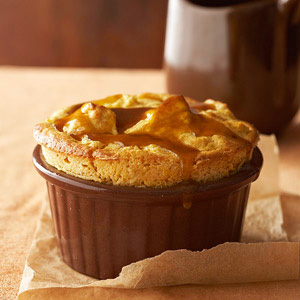 This is a silky bread pudding that will puff like a souffle and should be served as soon as it is removed from the oven if you want the souffle-like effect.
If you are making it for a pot luck or holiday brunch offering, the finished dish will take on a soft bread pudding consistency.
Either way, it's delicious!  Add a dollop of soft whipped cream and a sprinkle of fresh nutmeg to complete the presentation!
Pumpkin Bread Pudding Puff
Serves 10-12
What you'll need:
Softened butter for the baking dish
2 15 ounce cans pure pumpkin puree
2 cups whole milk
2 cups heavy cream
2 cups packed dark brown sugar
8 large eggs, separated
1 Tablespoon pure vanilla extract
1 Tablespoon ground cinnamon
1 teaspoon ground ginger
1 teaspoon fine kosher or sea salt
1 teaspoon freshly grated nutmeg
½ teaspoon ground cloves
1 ½ lbs. challah, brioche or other soft egg-bread, cut into 1 inch cubes (16 cups)
Confectioner's sugar for dusting (optional)
Unsweetened or softly sweetened whipped cream for serving
Fresh nutmeg for grating
Steps:
Position a rack in the center of the oven and preheat oven to 350 if baking today.
Butter either a 9 x 13 inch baking dish or a 2 quart round soufflé dish.
Whisk the pumpkin, milk, cream, sugar, egg yolks, vanilla, cinnamon, ginger, nutmeg, salt and cloves in a very large bowl until well blended.
Whip the egg whites to firm peaks and fold into the pumpkin mixture. Firm peaks will hold with distinct ridges but the tips will fold back on themselves when you hold your whisk upright.
Fold in the bread cubes and let sit at room temperature for at least 30 minutes if you are baking today. Transfer to prepared baking dish.
If you are preparing to bake the following day (recommended), complete the dish by transferring to the buttered baking dish, cover and refrigerate 24 hours or overnight.
If you have refrigerated the dish, let stand at room temperature for about 20 minutes before baking. When ready, bake for 40-45 minutes in the center of a preheated 350 degree oven or until puffed and golden.
Serve warm or at room temperature, dusted with confectioner's sugar or lightly whipped cream and a dusting of freshly grated nutmeg.