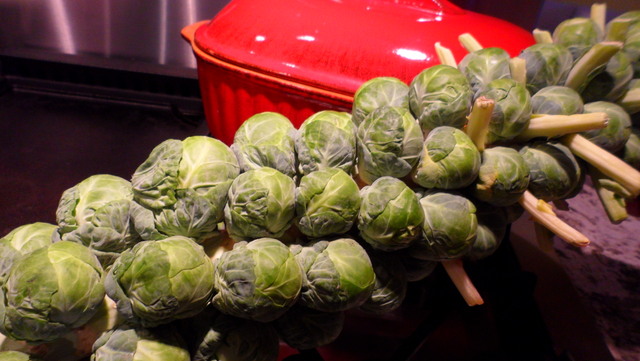 Tired of Balsamic Vinegar on your Brussels Sprouts? Try something different!
Roasted Brussels Sprouts with Cherries
and Candied Pecans
Serves 6
What you'll need:
FYI – Everything you will need for this recipe is available at Trader Joe's!
2 pounds Brussels sprouts, trimmed and halved
3 Tablespoons olive oil
2 Tablespoons honey (orange honey if you have it)
Juice of ½ lemon (about ¼ cup)
1 Tablespoon lemon zest
2 cloves crushed or finely minced garlic
Sea salt and freshly ground pepper
½ cup dried Bing or tart (Montmorency) cherries
½ cup candied pecan or walnut halves
Steps:
In a small bowl, whisk together olive oil, honey, lemon juice, crushed garlic and a little salt.
If your Brussels sprouts are on a stem, cut or pop them off, wash well, trim and cut them in half.
Put the prepared sprouts in a bowl and add the honey-lemon dressing mixture. Add a generous grind of pepper and mix to coat the sprouts.
Scatter sprouts on a lined baking pan or cookie sheet (with ½ inch sides), and roast in a 350 degree oven for 30 minutes or until Brussels sprouts crisp tender. Remove from the oven and add cherries and pecans. Bake for another 10 minutes or until sprouts are cooked to your liking.
When ready to serve, drizzle with a little more honey and a grate of lemon zest over the top.
Dee-lish-us