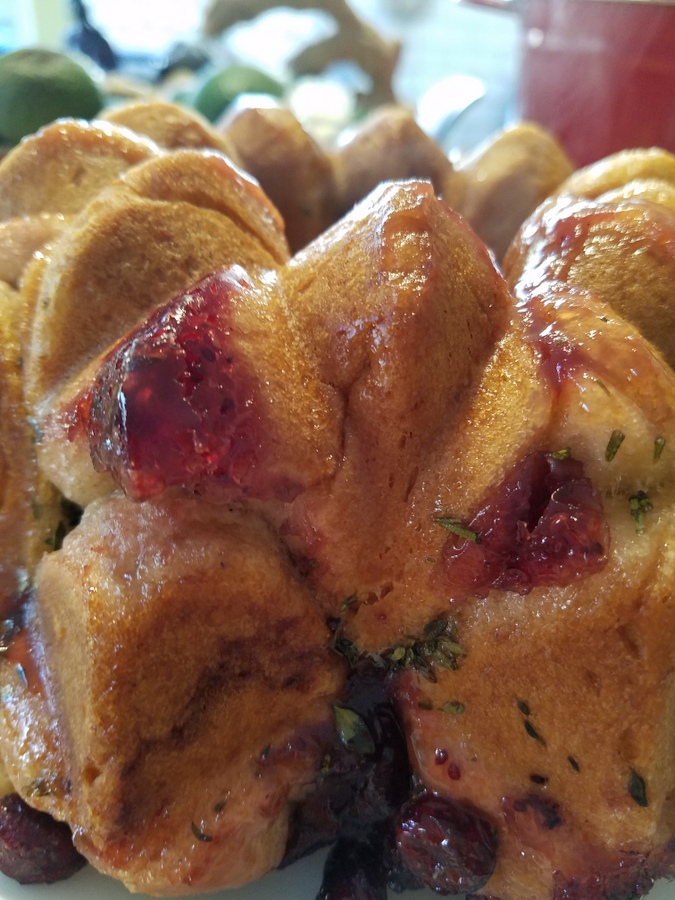 Brie & Cranberry Monkey Bread
with Fresh Herbs
Serves 10-12
This unique pull-apart bread is ideal for a Sunday brunch, a party, potluck, or just for fun!  Sweet and savory flavors blend beautifully in this easy-to-make treat. 
What you'll need:
1 pound French double-cream brie with rind on, chilled until firm
2 16-oz. cans refrigerated biscuit dough
2 teaspoons fresh rosemary, minced
1 teaspoon fresh thyme, minced
1 14-oz. can whole berry cranberry sauce
10 cup Bundt pan
Cooking spray
Steps:
Preheat oven to 375 degrees.  Lower oven rack to lower 1/3 of oven.
Coat the Bundt pan with cooking spray.
Cut Brie into 1 inch cubes and set aside.
Open biscuits and separate into individual biscuits. Tear each biscuit in half.
Flatten a piece of torn dough in your palm, place 1 cube of brie into the center and pinch dough around the cheese to enclose.
Roll into a ball and place into the prepared Bundt pan. Repeat with all the remaining biscuits.
Fill 1/3 of the Bundt pan with the filled biscuits, spacing them evenly. Sprinkle with 1/3 of the combined minced rosemary and thyme. Evenly distribute 1/3 of the whole berry cranberry sauce over the top of the bread.
Repeat with remaining ingredients, ending with cranberry sauce.
Bake in preheated oven for 50 to 60 minutes or until golden brown and bubbly on top.
Transfer to wire rack and cool for 10 minutes before inverting onto serving dish. Serve warm.