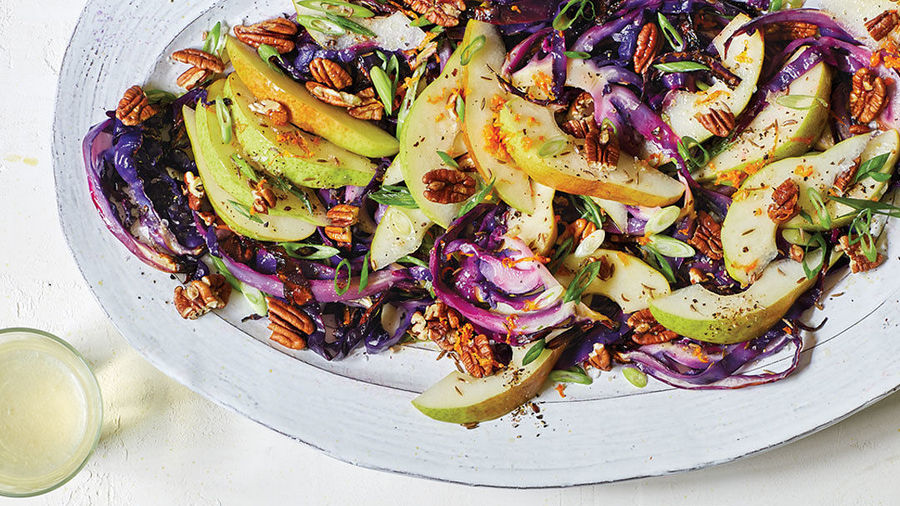 Try this sweet, earthy salad as a side or main dish.
A simple yet elegant salad!
Roasted Cabbage Salad with Pears and Pecans
and Pear Brandy Dressing
Serves 4
What you'll need
2 Tablespoons extra-virgin olive oil plus more for baking sheet
1 pound red or green cabbage, trimmed and cut lengthwise into thin slices
2 Asian or Bosc pears, sliced into ½ inch wedges
¼ cup thinly sliced scallions
1 Tablespoon pear brandy
1 Tablespoon white balsamic vinegar
½ teaspoon caraway seeds
½ cup toasted pecans, coarsely chopped
Finely grated zest of ½ orange for serving
Finishing salt to taste
Freshly grated white pepper to taste
Steps:
Position a rack in the top third of the oven and pre-heat the broiler.
Line a large rimmed baking sheet with foil, shiny side down and lightly grease the foil with olive oil.
Arrange the cabbage slices on the sheet and drizzle with 1 Tablespoon olive oil. Broil until the edges are nicely charred, 10 to 12 minutes.
Transfer cabbage from baking pan to a serving platter and  let cool completely.
In a medium bowl, combine the pear wedges with half the scallions, brandy, vinegar, remaining 1 Tablespoon oil, and the caraway seeds.  Toss together.
Top the cooled cabbage with the pear mixture and sprinkle with pecans, zest scallions, a sprinkle of finishing salt and a grind of white pepper.