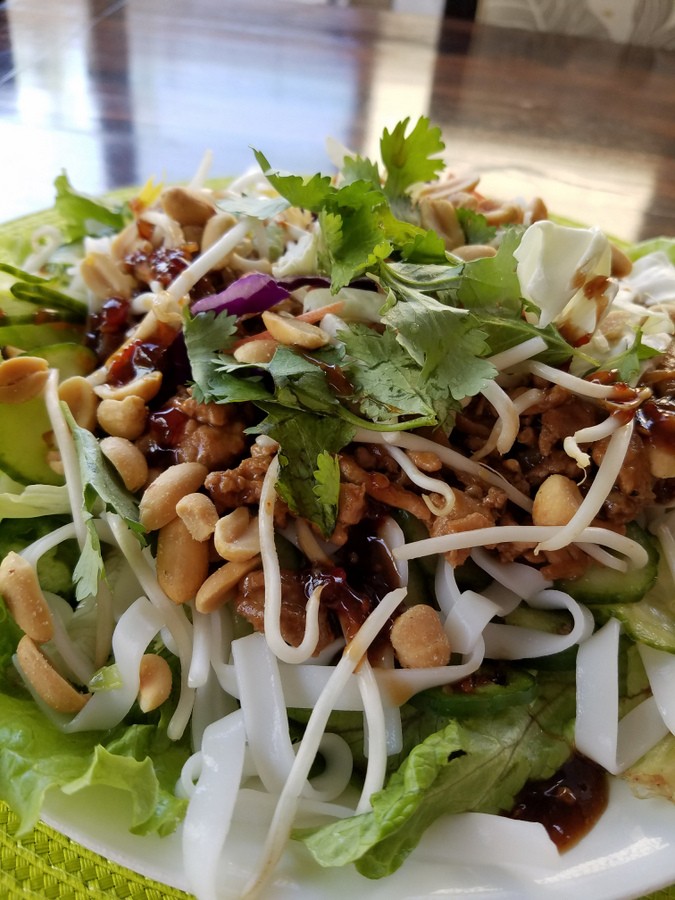 Southeast Asian Noodle Salad
Serves 4
What you'll need:
Dressing:
2 teaspoons Tamari or Soy sauce
1 teaspoon good quality fish sauce (such as Red Boat) or to taste
2 Tablespoons vegetable oil
1 Tablespoon Chili Garlic Sauce or to taste
3 Tablespoons fresh lime juice or to taste
1 Tablespoon Chinese black vinegar (Asian market)
2 teaspoons fresh grated ginger
Few drops pure roasted sesame oil
2 Tablespoons sugar
Salad:
8 oz. Chinese Rice Noodles (Fettuccini size)
3 cups thinly sliced Napa cabbage
3 green onions, thinly sliced on diagonal
1/2 English cucumber or 3 Persian cucumbers, sliced thinly
1/4 sweet red pepper, diced
1/2 cup cilantro leaves (leave whole)
1/4 cup mint leaves (leave whole)
2 cups fresh bean sprouts
Peanuts
Optional:
Shredded chicken or sliced duck
Butter lettuce leaves for serving
Steps:
Cook noodles per package directions.  Rinse in cold water and drain.
Mix together all dressing ingredients. Shake or whisk until thoroughly combined. Taste and adjust the flavors to your liking. I usually end up putting in more Chinese vinegar or lime juice or adding a little more sugar.
Toss noodles, cabbage, green onions, cucumber and red pepper with the dressing. Save a little dressing for drizzling.
For presentation, plate each salad individually on whole butter lettuce leaves. If using chicken or duck, use atop the tossed salad followed by a sprinkle of cilantro, mint and bean sprouts.  Drizzle a little dressing over top.
Finish the dish with chopped or whole peanuts.