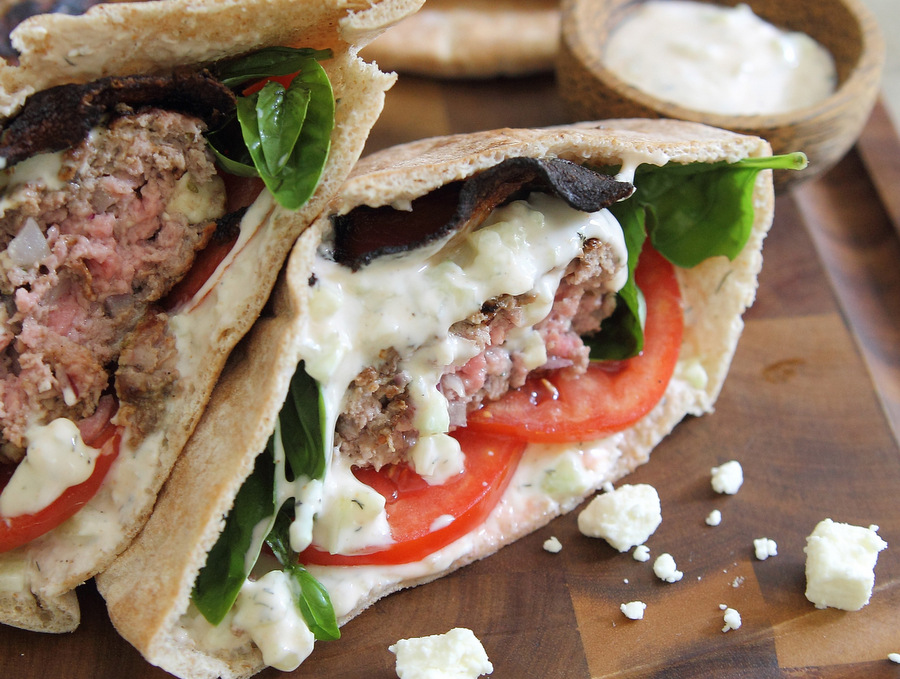 Try a new way to serve a burger.  Healthful and scrumptious!
Grilled Mediterranean Turkey  Burgers
Serves 4
What you'll need:
½ cup panko
¼ cup (1 oz.) crumbled feta cheese
1 Tablespoon minced red onion
2 Tablespoons commercial  or homemade basil pesto
¼ teaspoon salt
¼ teaspoon freshly grated black pepper
1 pound ground turkey
1 large garlic clove, minced or crushed
2 cups of mixed sprouts, arugula or shredded lettuce
Fresh mint leaves, fresh basil leaves
2 (6-inch) whole wheat pita pockets, warmed and halved
Homemade Tzatzeki Cucumber Dip (follow link)
Steps:
Preheat grill for cooking over medium hot charcoal (moderate heat for gas).
Combine first 8 ingredients in a bowl; mix until combined. Divide the mixture into 4 portions, shaping each into a ½ inch thick oval patty.
 Cook patties over medium heat for about 15 minutes, turning once. (It takes turkey a little longer to cook—you want them to be juicy but completely cooked inside.)
Serve by placing one patty and ½ cup of greens into each pita half. You can also add the tzatzeki, mint leaves, basil leaves, chopped tomato, grilled onion and chopped olives if you like.
These are yummy AND healthful! Enjoy!