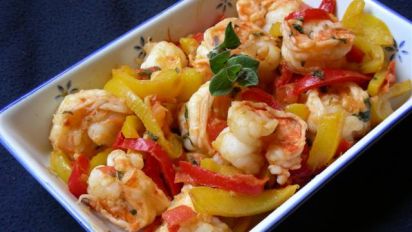 Pepper Shrimp in Peanut Sauce
What you'll need:
1 lb. shrimp in shells
8 oz. linguine or long-grain rice
½  cup water
¼  cup orange marmalade
2 Tablespoons tamari or light soy sauce
2 Tablespoons peanut butter
2 teaspoons cornstarch
¼ teaspoon crushed red pepper flakes or to taste
1 Tablespoon oil
6 green onions, bias sliced into 1 inch pieces
2 med. red, yellow or green peppers (or a combination) cut into strips
Peanuts, crushed and whole
Steps:
Peel and de-vein shrimp, leaving tails.
Cook pasta (or rice)
Stir together water, marmalade, soy sauce, peanut butter, cornstarch and pepper flakes and set aside.
Stir fry onions and peppers in wok or skillet. Remove from pan and keep warm.
Stir fry shrimp. Remove from pan and add to pepper mixture.
Using same wok or pan, cook sauce.
When sauce is thickened and bubbly, add shrimp and veggies and just heat through.
Serve over pasta or rice topped with peanuts.