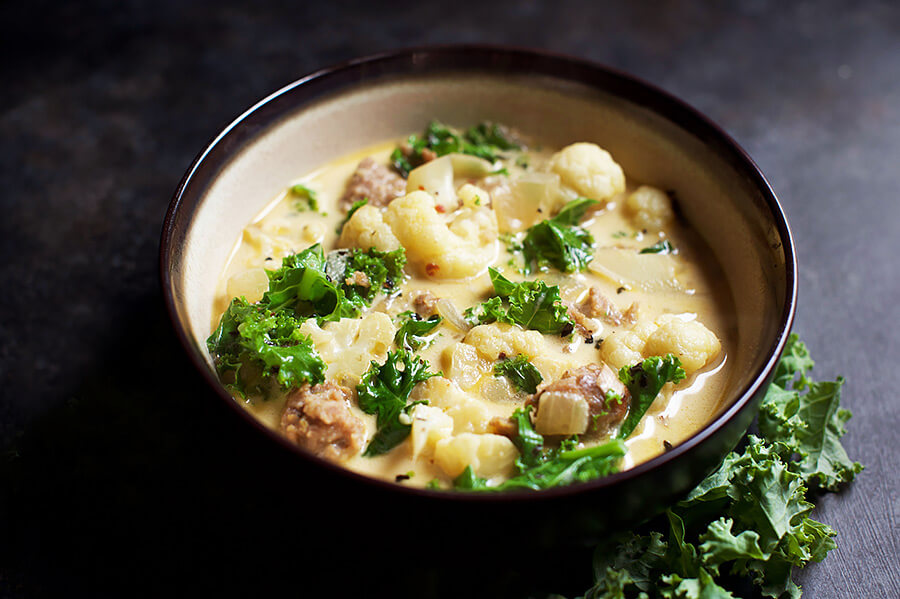 Creamy Italian Sausage and Potato Soup
Serves 6 as a main course
There are many version of this Italian-type soup popularized by the Olive Garden Restaurant chain. This one came from a chef at that restaurant. I downsized it to make it family size, not restaurant size! It's easy, uses inexpensive ingredients and is a good way to feed your guests or hungry family. Enjoy!
What you'll need:
1 pound hot Italian bulk sausage
4 slices Pancetta or lean bacon, chopped
1 large yellow onion, chopped
6 cloves garlic, minced
1 tsp. (or to taste) hot red pepper flakes
3 quarts (12 cups) rich chicken broth
2- 3 large unpeeled and scrubbed Russet potatoes, sliced
1 large bunch fresh kale, about 3 cups roughly chopped
¼  cup cream or to taste
1 cup milk
Salt and freshly ground pepper to taste
Steps:
In a med hot skillet, add sausage and cook until no more pink shows, breaking up with a spoon. Drain fat. Add red pepper flakes, cook a couple of minutes longer and set aside on paper towels to de-grease as much as possible.
In the same skillet, cook bacon or pancetta, onion and garlic until onions are soft.
Add 1 cup of chicken stock to skillet to deglaze, scraping up all the bits of flavor.
After deglazing pan, add to a large stockpot. Now add the remaining chicken stock, cover and bring to a slow boil. Add potatoes and cook until tender.
Using a potato masher, gently break up potatoes into large chunks.
Add chopped kale and cook for a couple of minutes longer until the kale wilts or cooks to your liking.
Add heavy cream, milk and sausage. Stir and simmer 5 minutes. Add salt and pepper to taste.
Serve with just a sprinkle of Parmesan or Romano cheese and a grind of fresh black pepper if you like. Delicious!