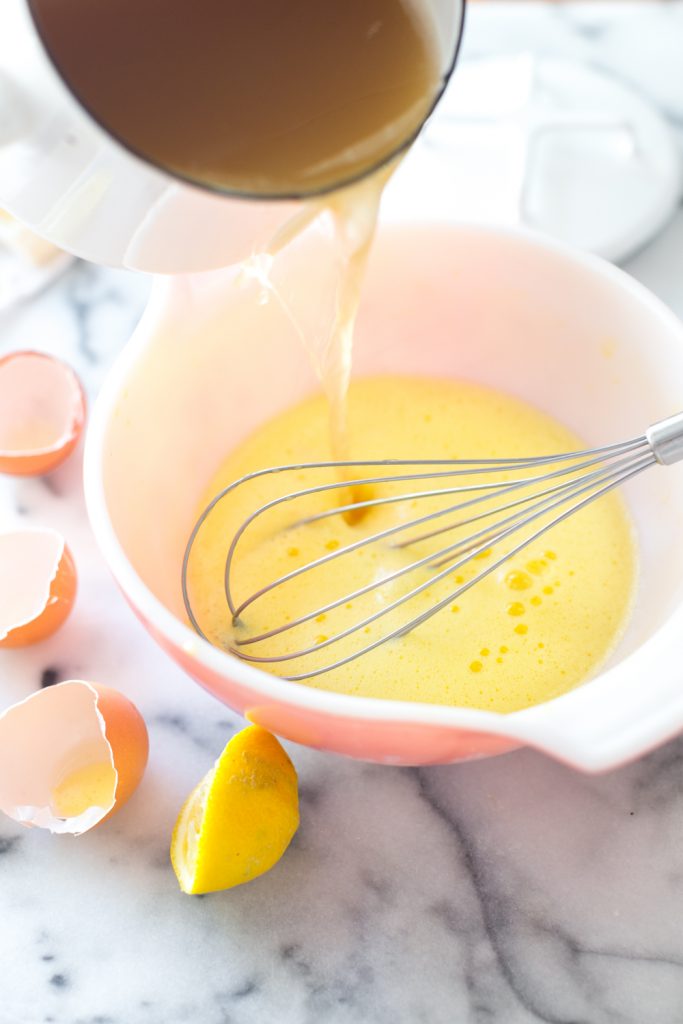 Creamy Greek Lemon-Chicken Soup
(Soupe Avgolemono)
Many of you have asked me for a quick after-work dinner that isn't the same old thing. Well, here you go! Don't let the simplicity of this recipe fool you, it is very special.  Easy, delicious and fast, this silky, tangy, unforgettable soup comes together in about 30 minutes. Take care to follow the directions – you will need to temper the egg-lemon mixture and resist the temptation to boil it once it is completed. We're not making egg drop soup here.  This is a creamy, lemony and decadent soup that will make your yiayia sing!
What you'll need:
8 cups chicken broth (I use Swanson's, if canned, but fresh is always best)
1 cup rice, orzo or coiled vermicelli, broken up
4 eggs, separated
Juice of 2 lemons or ½ cup
Salt
Lemon slices for garnish
Shredded chicken (Leftover or rotisserie)
Steps:
Bring chicken broth to a boil, add rice, orzo or vermicelli noodles and simmer, for about 10 to 12 minutes. Remove pan from heat.
In a bowl, beat egg whites until stiff; add yolks and beat well.
Slowly add lemon juice to eggs, beating continuously; then ladle 1 cup of the hot chicken broth to the egg mixture and don't stop beating! If you are new at this, you may need help by asking someone else to beat while you pour or vice versa. Slowly add another cup of hot soup and continue to beat until incorporated. This is called "tempering" and is the secret to preventing curdling of this delicate soup.
When the eggs and broth are well mixed, slowly pour this mixture back into remaining broth and rice/vermicelli. Stir well and gently reheat but DO NOT ALLOW TO BOIL!
Add shredded chicken to the bottom of a soup bowl, ladle the soup on top and garnish with a fresh lemon slice. Serve at once.