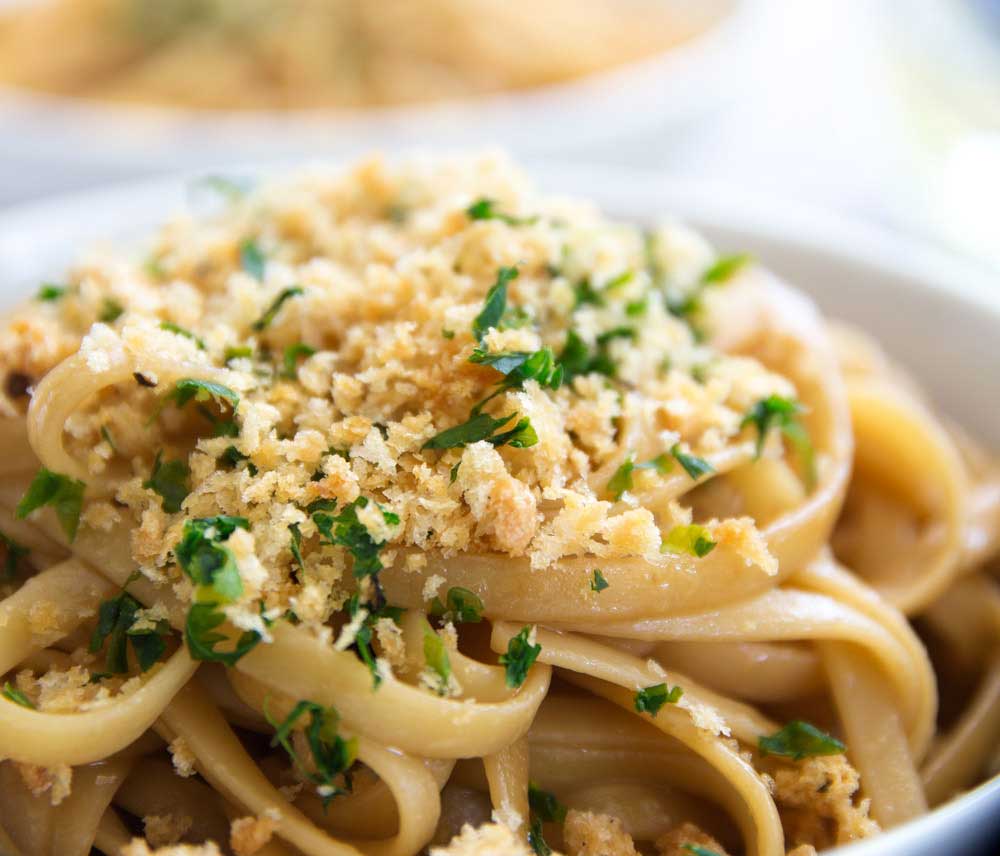 Pangrattato translates to "grated bread". The story goes that poor Italians began to grate stale bread over pasta when they couldn't afford Parmesan and the technique evolved from there.
What you'll need:
Stale bread that is dense such as sour dough or bakery white bread to make 4 oz. crumbs
4 to 5 cloves fresh garlic, pressed finely in a garlic press
1 whole anchovy, mashed
1 scant Tablespoon – 1 or 2 sprigs – fresh thyme leaves (lemon thyme is good here)
6 Tablespoons good quality olive oil
½ teaspoon hot chile flakes (optional)
Black pepper to taste
Freshly grated lemon peel from 2 lemons
Finely minced parsley (optional)
Steps:
In a heavy bottomed pan, add most of the olive oil and warm over low to medium heat. Add anchovy and thyme and swirl about in the pan just until the anchovy is "melted". Now add the garlic and again swirl the pan until you can smell the aroma of the garlic.
Add breadcrumbs  and chile flakes if using, and stir around until the bread crumbs are really toasty and crispy. Turn up the heat to medium and keep moving the breadcrumbs around for even toastiness.  You may need to add a little more olive oil in increments if too dry.
Season with salt to taste and a healthy grind of black pepper.
Grate fresh lemon peel over the cooked and cooled pangrattato mixture and blend in.
Serve over cooked pasta of your choosing that has been drizzled with olive oil and a sprinkle of chopped fresh parsley. You may also want to add another sprinkle of lemon zest.