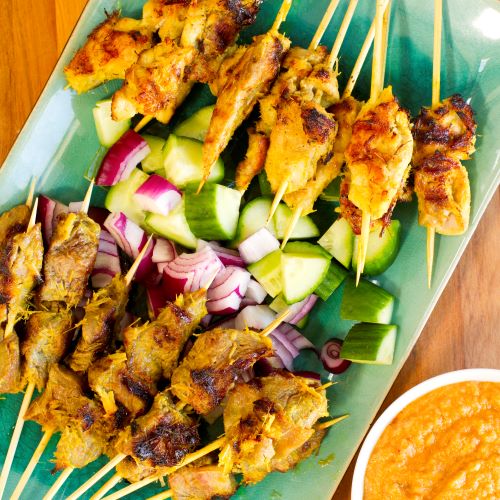 Dee's Chicken Satay and Peanut Sauce
Great with a side of coconut rice pilaf or a crispy cucumber and onion salad spritzed with lime juice!  Satay can be made into delicious lettuce wraps or eaten just dipped in sauce.
What you'll need:
For the Chicken
8 chicken tenders or boneless/skinless chicken thighs cut into strips
8 wooden skewers that have been soaked in water for 1 hour
2 Tablespoons olive oil
½ cup coconut milk
2 teaspoons sugar
2 Tablespoons fresh lime juice
2 teaspoons red curry paste
2 cloves minced or crushed garlic
Salt
Freshly ground pepper
For the Peanut Sauce
3 Tablespoons soy sauce
2 Tablespoons hoisin sauce
1 Tablespoon toasted sesame oil
1 Tablespoon seasoned rice vinegar
2 Tablespoons peanut butter
2 Tablespoons honey
1 Tablespoon sweet chili sauce
2 cloves crushed garlic
2 Tablespoon minced ginger
¼ to ½ teaspoon hot pepper flakes (optional)
Garnish
Lettuce leaves, preferably butter lettuce, washed and crisped
Lime wedges
Thinly sliced scallions
Coarsely chopped cilantro
Coarsely chopped peanuts
Chopped fresh Thai or Serrano chilies (optional)
Steps:
Mix marinade ingredients together in a medium sized bowl. Taste and adjust ingredients to your personal taste. You may decide on more lime juice or peanut butter. Experiment until it's perfect for you!
Place chicken strips into marinade mixture to completely cover the pieces and refrigerate for at least 1 hour or overnight. The longer the chicken marinates, the more intense the flavors in the meat.
While the chicken is marinating, blend all the sauce ingredients together in a small bowl. Microwave on high for 20 to 30 seconds, just until peanut butter melts. Taste and adjust flavors to your personal taste. Set aside.
Thread chicken breast tenders onto the soaked skewers. Cook on medium high heat on BBQ or grill for 4 minutes on one side. When the chicken just begins to char. Flip to other side and cook for an additional 1-2 minutes.
Chicken breast will cook more quickly than thigh meat. If you are using thigh strips, increase cooking time to 4 minutes on first side and 4 minutes on flip side.
Remove from heat and plate skewers for serving with lettuce leaves, thinly sliced green onion, cilantro, peanuts and hot peppers. Place lime wedges on each plate for serving.