This is one of those outrageous summer feasting dishes that can only be truly enjoyed when fresh, sweet corn is available.  You can make this corn as spicy or not-spicy as you like, just by adding more or less Chilpotle.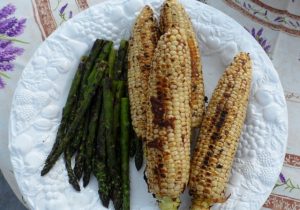 If you're not sure what Chilpotle peppers are, they are smoked, red jalapenos that are rich, smoky and hot. Not TOO hot, but that kind of spicy hot that makes your mouth water!
Chilpotles en Adobo usually come in a can like this: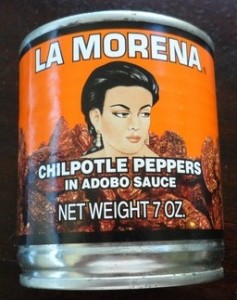 The sauce that the chilies are in is  incredibly rich and luxurious.
I have found many ways to use Chilpotles en Adobo  (including using in a great sauce for turkey burgers, but that's another recipe!).  Not to worry, if you can't find this type of Chilpotle chili nearby you can always use ground red Chilpotle seasoning, which is available in ethnic markets or sometimes in the spice section of your local market.
Dee's Grilled Chilpotle Corn on the Cob
What you'll need:
4 ears fresh corn on the cob, husked
Always choose the freshest corn possible, with tightly fitting husks and fresh-looking dry (not soggy or moldy-smelling) silks.
4 Tablespoons extra virgin olive oil
1 to 2 Tablespoons fresh lime juice (to taste)
1 to 2 Tablespoon Chilpotles en Adobo, finely minced or snipped (to taste)
2 teaspoons ground cumin
1 garlic clove, crushed
Pinch of salt to taste
Topping:
Crumbled cotija cheese* (A little Parmesan if cotija not available, although it will give a different flavor. You can also try Feta cheese.)
2 Tablespoons fresh cilantro leaves, minced
* Cotija cheese is a semi-hard Mexican cheese that can be found in specialty markets and in some supermarkets in the deli case.
Steps:
1.  Preheat the gas grill to medium-high or prepare your coals and let them burn off, then form a white ash until you can hold your hand over the heat for the count of 4 to 5 seconds (medium high heat).
2.  While the grill is preheating, prepare your grilling oil by combining the olive oil, lime juice, chilpotles en adobo (including sauce), cumin, garlic and salt.
3.  You can either put everything into a blender or food processor or do it by hand, blending everything but the cilantro in a small cup or bowl. Little chunks of chilies left in the sauce add a nice touch to the finished corn.
4.  Brush the husked corn with the oil mixture and grill over direct heat, turning as needed to ensure a little char and cook the corn to your liking.  I like a little crunch to my corn, so it cooks in about 4 to 5 minutes with about 3 or 4 turns.  If you like yours cooked more, feel free to cook it longer, just take care not to burn it. Turn it frequently.
When the corn is cooked to your liking, sprinkle the hot corn with crumbled or grated cotija cheese,  chopped cilantro and ENJOY!