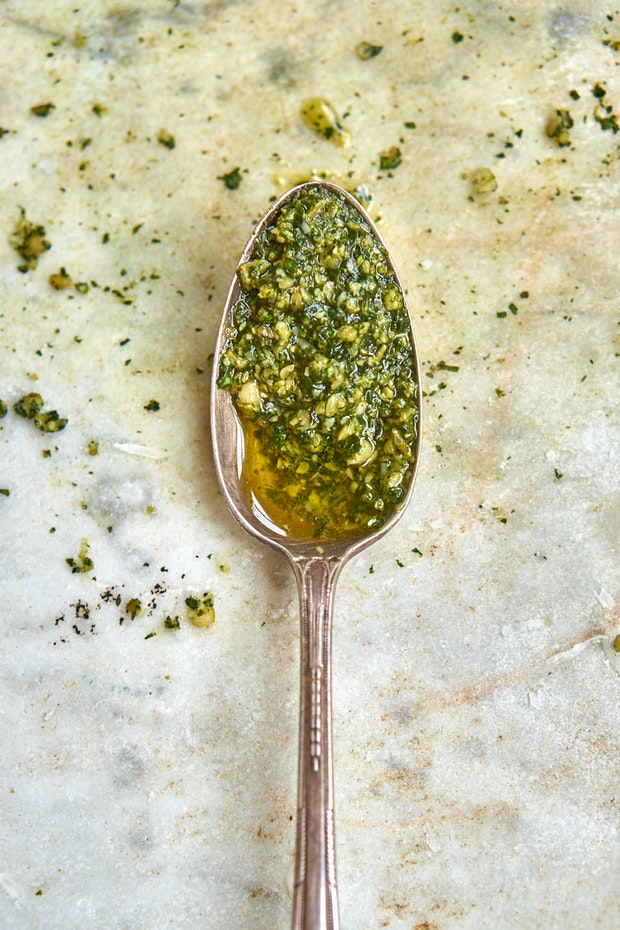 Dee's Fresh Pesto
Makes 1 cup
Traditionally, a mortar and pestle is used, however a food processor works well if done with care. Just don't over process! Pulse!
What You'll Need:
5 cups fresh basil leaves, packed
1/2 cup pine nuts, walnuts or hazelnuts
3 tablespoons chopped garlic (9 cloves)
1 teaspoon flaked kosher salt
1 teaspoon freshly ground black pepper
1 cup good quality extra virgin olive oil
1 cup freshly grated Parmesano Reggiano
 Steps:
If using a food processor or blender:  Combine basil leaves, chopped garlic and pine nuts in a food processor. Pulse until coarsely chopped. Add ½ cup of the oil and pulse to incorporate oil. Add salt and pepper.
If using immediately, drizzle in remaining oil and pulse again until fully incorporated but not smooth.  Taste and adjust to suit your taste.
Place pesto in a bowl and mix in finely hand-grated quality Parmesano Reggiano cheese. Always serve at room temperature.
If you plan to freeze the pesto for use later, do not add the cheese. Cover the pesto directly with a piece of plastic wrap, cover container and freeze. When ready to serve, thaw pesto and add cheese.
Pesto is not only great on fresh or packaged pasta! Try some of these ideas:
On Pizza instead of tomato sauce
In a sandwich with tomato and mozzarella cheese
Bake into bread
Make a salad dressing – just mix it into your oil and vinegar dressing
Mix it into veggies
Mix it into cooked fingerling potatoes
Try a dollop in chicken salad or to top cooked chicken
Great on fish – just a dollop on hot, cooked fish
In soup such as Soupe au Pistou, a French fresh veggie soup to die for!