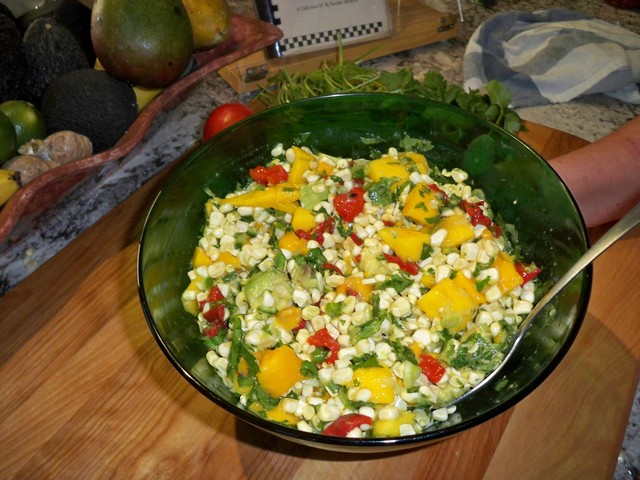 Sweet fresh corn and mango combined with creamy avocado and spicy jalapeno create a unique and delicious salad that you can adjust to suit your personal taste.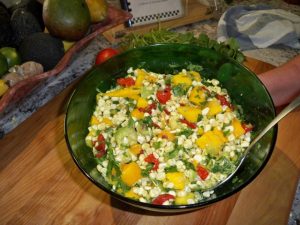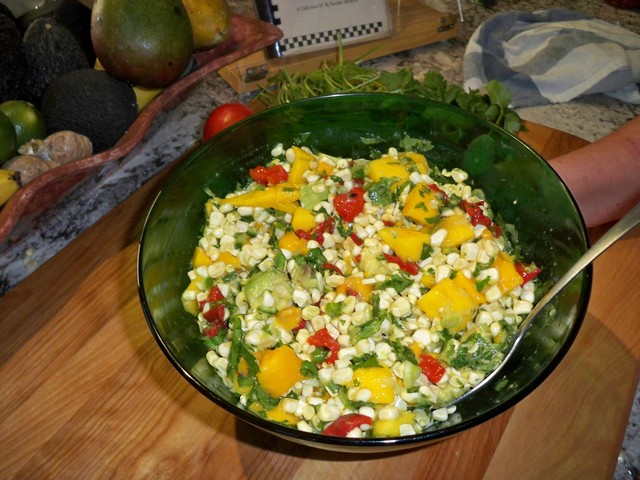 You can use this as a tasty side dish to compliment grilled fish, chicken or pork!
Try serving it on butter lettuce or limestone lettuce leaves, inside an avocado, or a scooped-out papaya for a great presentation!
I purposely did not state amounts below because this is an "as you like it" salad. Just be certain to use the citrus juices as indicated.
Dee's Corn & Mango Salad
What you'll need:
Fresh corn, cut off the cob
Roasted red pepper, peeled and seeded (fresh is best, but jarred will do in a pinch)
Avocado, diced
Mango, cubed
Fresh chopped jalapeno or Serrano chili peppers to taste
Green onion, sliced
Cilantro leaves
Fresh garlic, finely minced
1/3 to 1/2 cup freshly squeezed orange juice
1/4 cup lime juice or to taste
Salt to taste
Steps:
1.  Chop the ingredients as indicated above and add them to the corn that has been freshly cut off the cob.  If you are serving it as a salad, cut the pieces larger; if you are serving it as a relish or side dish, cut the pieces smaller.
2. Mince the chilies finely and either put the garlic through a press or mince it finely as well.
3. Mix all the ingredients together gently to keep the avocado and mango intact, sprinkle with lime and orange juices and salt to taste.
4. Let the salad set to blend the flavors for about 30 minutes or so before serving. I like it at room temperature, but you can serve it chilled if that is your preference.
Enjoy this delicious summer recipe!