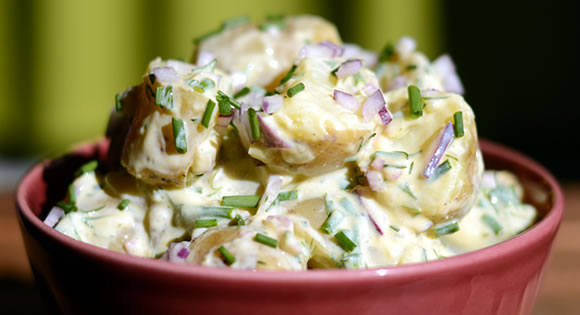 Fresh herbs, fragrant fresh citrus and creamy light dressing combine for a refreshingly different potato salad.
Serve this delightfully light spring/summer salad with all your favorite grilled foods!
What you'll need:
For the salad
8 large Yukon Gold Potatoes, scrubbed
6 garlic cloves, peeled
6 fresh sage leaves
Kosher salt to taste
Herbs:
Italian parsley leaves
Spearmint or apple mint leaves
Tarragon leaves
Sweet basil leaves
Dill leaves
Green onion, tops only or fresh chives, thinly sliced
For the Dressing
Blend together:
1/3 cup mayonnaise (I use Best Foods Olive Oil mayonnaise)
1 ½ cups non-fat Greek yogurt
1 Tablespoon fresh lime juice, or to taste
2 Tablespoons fresh orange juice
1 raw garlic clove, crushed in press
1 ½ Tablespoons orange zest (not the white part–zest only)
2 teaspoons lemon zest
2 teaspoons lime zest (if available)
Add salt and pepper to taste and adjust the juices/rind flavors to suit.
Steps:
Cook unpeeled potatoes, garlic and sage in enough salted water to cover. Bring to the boil and reduce heat. Cook potatoes until tender but not mushy, 15 to 20 minutes. Remove sage and garlic. Chill potatoes.
Once potatoes are chilled, cut into bite-sized pieces. You can leave the skins on or peel them, it's a matter of taste. Either way is fine.
While the potatoes are cooking, chop the fresh herbs and combine them. It's important that you use fresh herbs for this particular salad.
Mix herbs into your cooled potatoes and set aside.
Mix all ingredients for the dressing. Taste and adjust the flavors to your liking.
Pour the dressing over the potatoes and gently mix together. Save some of the dressing to serve on the side for those who like extra.
Garnish with sprigs of herbs and thin slices of citrus if you like.