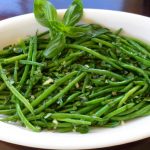 Haricot verts are thin green beans. If these are not available, use whatever green bean you prefer.
You'll need only 5 ingredients to create the perfect side that everyone will just love!
What you'll need:
1 pound fresh green beans
10 to 12 leaves fresh sweet basil
3 to 6 fresh large garlic cloves (to taste)
Good quality Extra Virgin Olive Oil
Finishing salt and fresh cracked pepper
Steps:
Cook the beans (either in microwave or on the stove) to your liking; I like mine crisp tender.
After beans are cooked and are still warm, crush your garlic onto the beans and rub in with your hands. (You might want to wear gloves,  but if you rub your hands with lemon, you will lose the garlic smell!)
Drizzle the beans and garlic with about 1 to 2 Tablespoons of good quality extra virgin olive oil.
Coarsely chop your basil and sprinkle over top.
Sprinkle with finishing salt and pepper.
Mix all of these things together so that beans are well-coated.  Don't be afraid to use your hands!
 \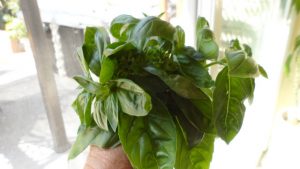 Simple and Delicious Summer Treat that goes well with practically everything!