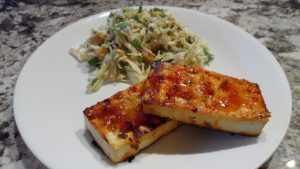 Delicious!
If you haven't tried tofu, or if you have and wasn't sure, this will get your vote!
Dee's Spicy Grilled Asian Tofu
Serves 4
What You'll Need:
2   14-ounce blocks of firm tofu, drained
*I prefer the sprouted organic tofu available at Trader Joe's
1 Tablespoon toasted sesame oil
1 cup Thai/Asian Sweet Chili Sauce
2 Tablespoons (or to taste) Vietnamese/Asian Chile Garlic Sauce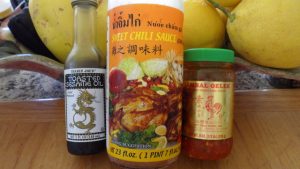 Steps:
Cut the tofu crosswise in half and drain on paper towels for 30 minutes.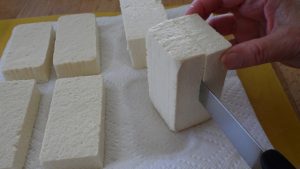 2. Stir together toasted sesame oil, sweet chili sauce and Asian chili garlic sauce.
3. Pour some marinade onto a plate big enough to accommodate all the tofu. Place tofu on the marinade, then pour the remaining marinade over the tofu.
4. Marinate it for no less than 30 minutes or up to 2 hours.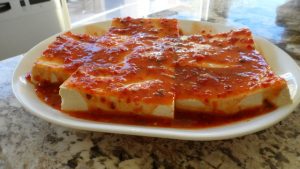 5. Prepare your grill: either pre-heat a gas grill to high or prepare your coals until white ash forms and you can hold your hand over the coals for no more than 4 to 5 seconds.
6. Oil your grates.
7. Remove tofu from baking dish, reserving the marinade.
8. Grill tofu 3 to 4 minutes on each side over high heat, or until golden on the outside.
Serve with warmed marinade and a side of Dee's Asian coleslaw.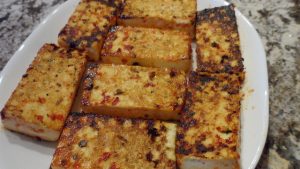 To your health!!